There are lots of reasons to make a home or office space more private. Nosy neighbours, concentration and security are the three main reasons that people look to increase their privacy both at home or in the workplace with a frosted window film.
At home, you might want a space that you can concentrate in if you're working from home, away from distractions, or you might be looking to improve your home security if you're commuting and not at home. Lots of crime is opportunistic, so by increasing your home's privacy you're not leaving that opportunity open.
In the workplace, employee safety and protection of assets – such as computer equipment, stock or employee's personal belongings – you have in your office is important. You might also want to protect client and employee privacy, avoid data breaches or keep competitors in the dark about who's visiting your office.
Whatever the reasons, privacy is an important part of modern life.
There are some ways you can improve security at home or at work – changing all of the glass in the building, installing cameras (which arguably probably makes things less private overall) and thinking about blinds, curtains or strategically placed outdoor planting. All of this takes time and can be expensive.
A much cheaper and quicker alternative for privacy day or night are frosted window films.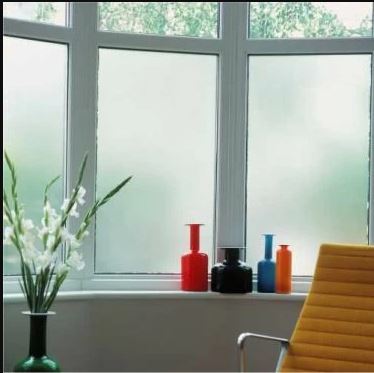 Why is a frosted window film perfect for privacy?
If you haven't heard of frosted window film before, it's a glass covering that's designed to obscure glass for privacy during the day and night. This adds security your home and office. It can be much easier to apply that new glass panels (you can even do it yourself) and costs significantly less.
Here are the reasons why privacy window films are great for keeping things under wraps, and are often the best option compared to some of the alternatives out there, whether you're at home or at work:
More affordable than frosted glass – one of the biggest bonuses of frosted film rather than frosted glass is that it's much more affordable. Especially if you have awkwardly shaped glass, old windows that need specialist glass included or lots of glass that would need replaced with the frosted kind. You can even buy it off the roll if you have lots of glass to cover with frosted film and cut to size yourself.
Easy to customise – as we mentioned above, sometimes you need privacy somewhere that has awkward shaped panels of glass. It's so much easier (as well as cheaper) to create custom shaped window films, or even custom patterned designs with your logo on there for example, when compared to glass.
Straightforward to order – ordering frosted window film is much more straightforward than ordering windows. For a start, you can do the measuring up and ordering yourself rather than relying on a third party to come out and do it for you! You can also ask for advice or guidance if you're not sure. Usually you simply choose your measurements, choose a design and then wait for delivery.
High quality – our Purlfrost window films are the finest quality, both in terms of materials and print quality. We've been supplying businesses and home with window films for many years and our clients return to us with new projects time and time again because of the quality of our products and services. We offer self-cling or self-adhesive window frosting so you have a choice of options.
Easy to apply – window films take just minutes to apply. We provide easy to follow instructions and tools to apply your films with. Even if you've never done it before, you can get a high-quality, professional finish. In some locations, if you have lots of window film to fit, we can even come and fit it for you.
Change designs as often as you want – because window films are inexpensive, it's easier to change your mind if you redecorate or decide there's something you like better. Just remove and apply your new design as needed. At Purlfrost we offer contemporary and period designs.
Adjust levels of privacy easily – if you've created a space that's private but then realise there would be a better or different way to do it, then that's fine with frosted window films. It's easy to change, update or add to. Changing the configuration of your frosted glass layout couldn't be easier! Our custom window films also come in different patterns and opacity, so if you realise you want to make your inside space even less visible, we can help with this with denser frosted window films to obscure people from seeing in.
Window films still let the light in – things like curtains and shrubbery all stop people from seeing into your windows, but they also completely block out any natural light, making the space feel claustrophobic. This can make for a dark and dingy living or working space, which is less than ideal. Frosted glass still lets the natural light into the room, whilst keeping prying eyes out.
Modern and attractive designs – sometimes styles change, trends move on and better ways of doing things become available. Because frosted window film is so easy to customise and apply, it's perfect to keep up with trends, décor or branding. Replacing windows can be so expensive that if you go for a bold design, you run the risk of it looking dated further along the line.
Use frosted window films in any space – frosted window films can be used at home, workplaces and in spaces like bathrooms, toilets and kitchens where you might have heat, condensation or steam. The frosted window films we provide are all completely resistant to condensation and moisture.
If you're worried about privacy in your home or office, take a look at our range of stylish privacy window films. They're the perfect alternative to expensive options like reglazing your home, or impractical options such as blocking out natural light – you need to balance comfort with privacy wherever possible.