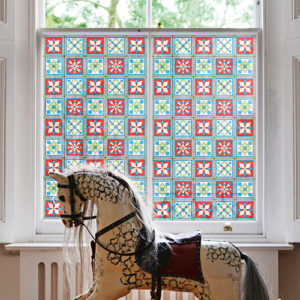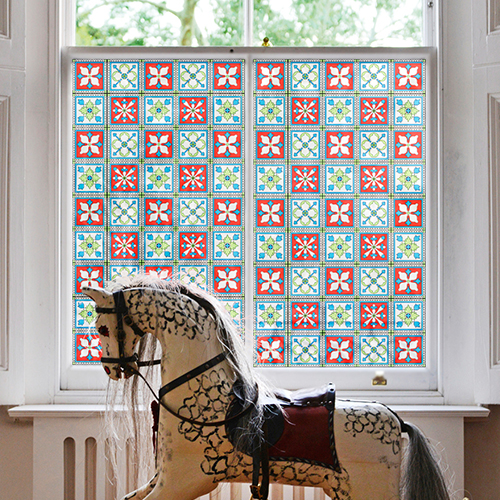 Whether you own a period property, or just want your house to look like one, heritage windows can cost a fortune. The beautiful glass designs can be very difficult to create or replace whilst keeping in character with the building and its existing décor. The good news is that (at least when it comes to your windows) there is an attractive and low-cost option that can be in keeping with the house's character while remaining attractive: heritage patterned window film.
In this article, we're going to explain everything you need to know about using window film in a period property. Heritage window film is suitable for any window or smooth surface at home, in your business or even for a large volume of windows in school buildings and offices.
What are heritage windows?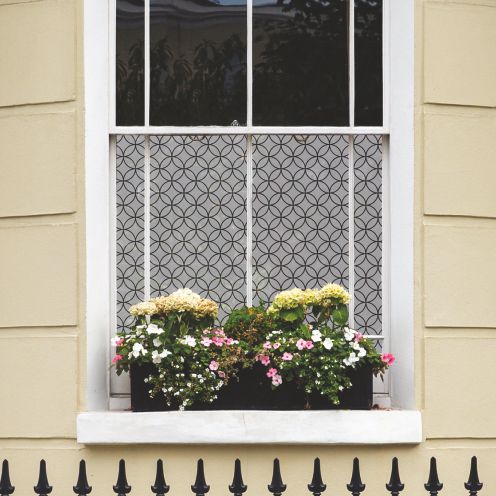 Many period properties come with beautifully designed heritage windows, however, the upkeep and renovation of these windows can be a nightmare. Heritage patterned window film helps you to keep (or create!) the unique style of your period home, without having to go to the expense of completely replacing the glazing in your heritage windows.
For example, have you always loved stained glass? Although a fantastic design feature, stained glass is just not an affordable option. However, using patterned window films you can create a stained glass effect on a budget.
Don't be fooled by the name, patterned window film can also be used on a huge range of other smooth surfaces. It can even be used on your doors to create a Victorian-style etched glass effect or stylish (and clear!) house numbers. 
Why have a feature window?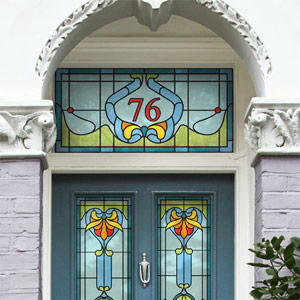 Your windows are a huge part of your home design. They take up a large amount of space and allow in that all-important natural light. Using heritage window films you can show off your personality and create a more beautiful, efficient home space.
There are lots of reasons you might choose to update one of the windows in your period property with heritage window film, such as increasing your heat efficiency, protecting privacy, covering up unsightly views or simply wanting to create (or replace) beautiful period designs.
Renovating period properties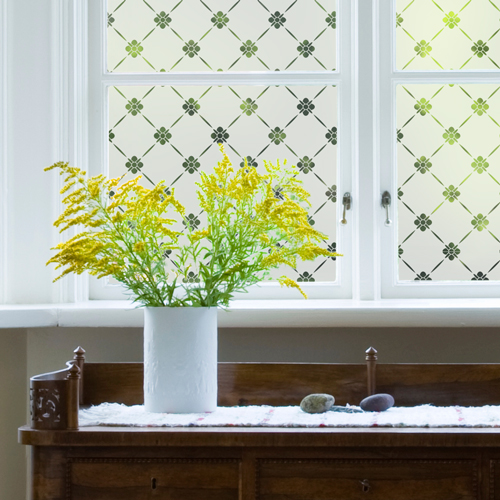 Just bought a period property to renovate? Or maybe you've been so busy you're current period building, be it a home or a business, just needs some attention. Heritage renovation, everyone can agree, is difficult. Finding suitable elements which also fit in with your design scheme is a hard task. Especially if you're in a listed building in which changes have to be very carefully monitored. You might find that any work you need doing just becomes really impractical and a lot of hassle.
We're here to help save you from the traumas of glass replacement. Patterned window films allow you to create a heritage look, improve your period windows or simply update your home design whilst keeping well within your budget. Heritage window films are by far the most cost-effective method of window design.
So, this is definitely something you should consider when looking at properties, business spaces or after moving into a new home. If there's not enough privacy in the bathrooms or there are windows on street level you're not comfortable with, decorative glass films are a simple solution. If there are windows you're not happy with, for any reason, you can easily change the design with heritage window films.
You're also not limited to just period designs, why not go for a modern flair with creative windows stickers. The beauty of using decorative window films is if you actually want a modern design, you don't have to worry about the effect on your period building because the films are easy to take off if you move on, and don't damage the property in any way.
Patterned window film vs. glass replacement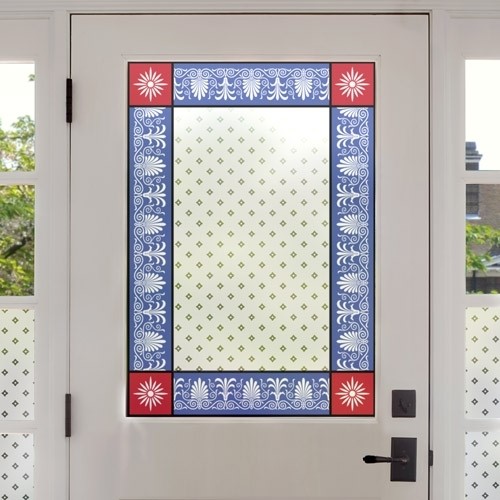 Interested in renovating a property? Then you'll know that glass replacement doesn't come cheap, especially for period windows. Not only do you need to worry about the cost but you also need someone to come out and do the work, plus you'll need to redecorate your window frames afterwards. So if you're looking for a way to create heritage windows on a budget, you're in the right place!
If you're thinking about renovating your windows at home or work, but you're not sure where to start, consider opting for glass films over glass replacement. You can quickly install window film yourself, it's a far less permanent choice than glass and it's a tiny fraction of the cost.
How to save money with patterned window film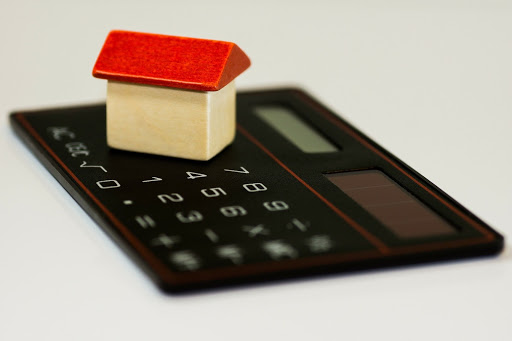 Working on a period home whilst sticking to a budget can sometimes feel impossible. You need to find savings wherever you can. A big cost like replacing glass might seem worth it for the overall improvement in design, however, if that design can be achieved with heritage patterned window film, then why fork out for glass?
Plus no installation fees and redecorating costs are required with period window film, both of which can often cost a small fortune. By installing the glass film yourself on the windows you already have, you can still achieve the effects you want and stay on budget!
It's not just the costs of upgrading your home or business to worry about, but also how those upgrades are going to affect your bills. Period windows often don't offer the same protection from the elements as modern designs. One way around this is using solar control film with your current heritage windows to reduce sun glare, heat in summer and heat loss in winter.
Why pay one large cost to change the glass in your windows when you might change your mind in the future? If you replace the glass and then decide you need to update your windows or you decide to move, you're stuck with the glass you have. Patterned window films are super easy to remove and you can easily order new designs when you're bored with your current look!
Update commercial windows – without a big cost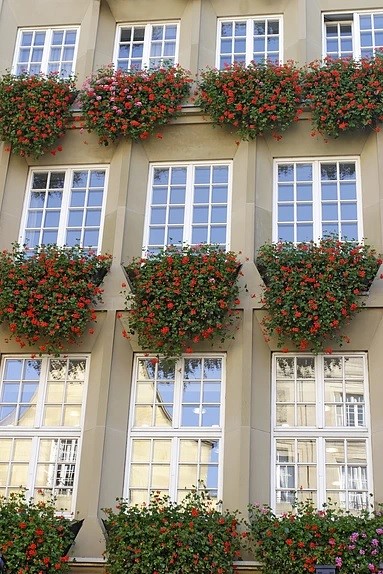 From offices to schools, there's plenty of big period buildings that could use an update. When you have very large windows or just a vast amount of them, it can be difficult to replace a lot of glass at once, nevermind expensive. So how can patterned window film help?
Updating large period windows, or lots of windows at once is just not practical. With heritage window films you can save yourself so much cash and choose a much more attention-grabbing design than you would be able to afford if you chose to replace the glass.
Protecting your privacy with patterned window film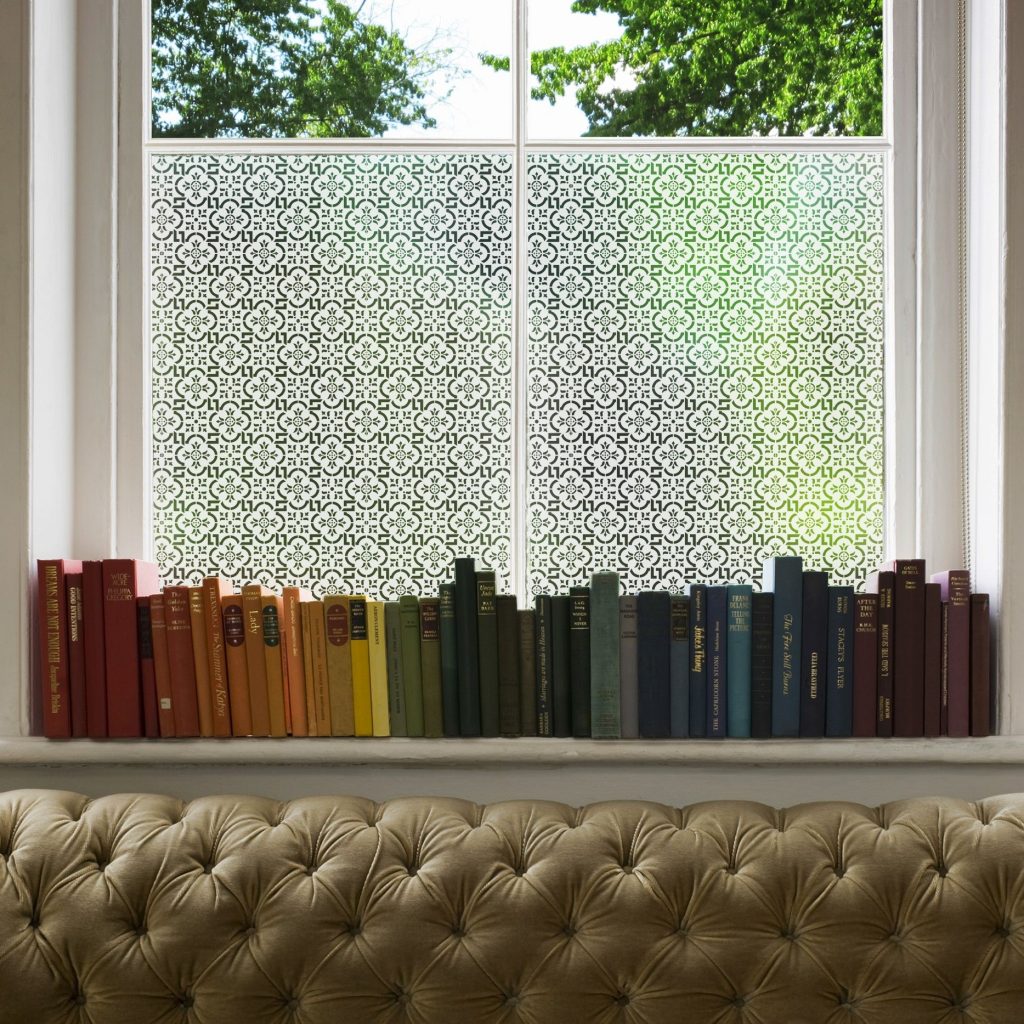 One of the biggest benefits of patterned window film is added privacy. You can use period frosted film to obscure your bathroom windows and protect your modesty. If you have big glass windows at the front of your property or lots of glass around your front door, you might be concerned about your valuables. Period window film also has the added benefit of increasing your security by keeping your valuables obscured from view.
It's not just used in protecting the inside of the house, decorative window films can also be used to cover up any unsightly views outside your house too. Perfect for improving the overall feel of your home space. Something to consider when looking at properties in the future.
How to choose a patterned window film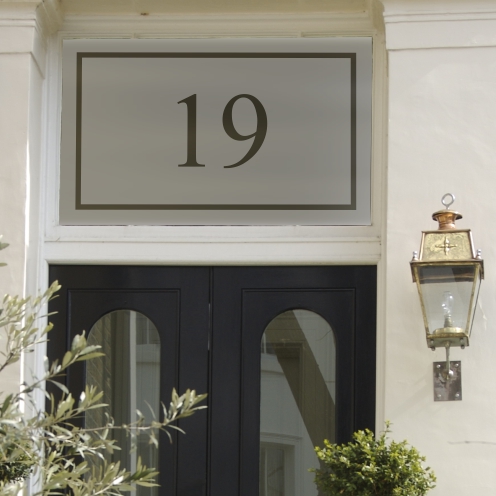 So you've decided to go for a patterned window film in your home but no idea how to choose the right one? There are a vast number of options when it comes to patterned window film so we're going to give you a little guide to how to choose your design.
What problem do you want your window film to solve?
No, we're not talking about complex maths problems, window film isn't quite that technologically advanced (yet!), but there are plenty of problems window film can help with. If you're looking for privacy in your bathroom or for street-level windows then frosted glass films are the way to go. They protect your privacy or cover up unsightly views whilst allowing in natural light.
If you want to choose something that's also going to add to the design of a room then patterned frosted film is perfect. If you're looking to update your windows with a heritage design to suit your property then you need to choose a patterned heritage film.
For a period look, you can use frosted heritage film to create an etched glass style effect or for a little more drama opt for a stained glass effect film. Don't forget you can also create gorgeous house numbers in a period style with window adhesive stickers.
Where are you going to use your glass film?
This might sound like a fairly obvious one, however, there are lots of surprising ways you can use patterned glass films when renovating your home or business. Take a look at just some of our ideas for window films below.
Here are some ideas of where to use patterned window films:
Bathroom windows for privacy
Ground-level windows to obscure your valuables
Hide unpleasant views outside
Create an etched glass look in your doors
Mimic stained glass in your feature windows and doors
Hide untidy kitchen cabinets with transparent cupboard doors
Jazz up plain interior windows with a more designed look
Add privacy to shower doors (and a touch of elegance with an etched glass design)
Add a colourful touch to stair steps
Interior office walls to create more privacy for meetings
Create cohesive branding within your office or business
Update your business windows depending on season and sales
Any smooth surface like walls, doors, cabinets etc. to create a custom-designed look
What design style are you looking for?
We really can't tell you which is the best design as it totally depends on the space, but we can help you to be aware of the options. Think about the era of your period property, and whether you want to choose something in line with that or find an update.
Below we'll list some of the main types of decorative window films you can choose from, just to give you an idea. This way you can have a look through the options and figure out what style is going to best suit you, your business or your home. In each category, there are options ranging from various window sizes and house numbers to bespoke designs.
Custom glass designs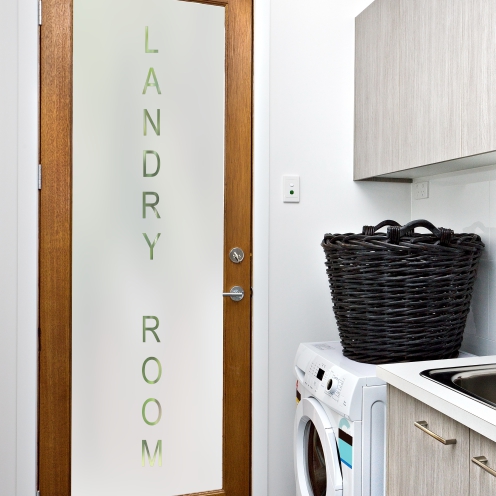 Custom glass is not remotely budget or cost-effective, however, thankfully customized decorative window films are the exact opposite! You can easily customise your design to suit your space without spending a fortune. Whether that be with text, branding, house numbers or creative patterns. Imagine choosing a period design for your windows and being able to create something totally bespoke for you.
This is the best option for shop windows, businesses and office spaces because it means you can show off your branding from the first moment customers and clients step into your space.
Creating a period look on a budget
Maybe you don't own a period property or have heritage windows to update, that doesn't mean it can't look like you do! Using carefully selected window films you can create a period look in any space. For something subtle and simple, etched glass designs will help to create a classy and understated look. However, if you want to go big and bold, why not have stained glass windows in your home or business? You'll definitely make an impact by choosing a faux stained glass design.
How to measure for patterned window film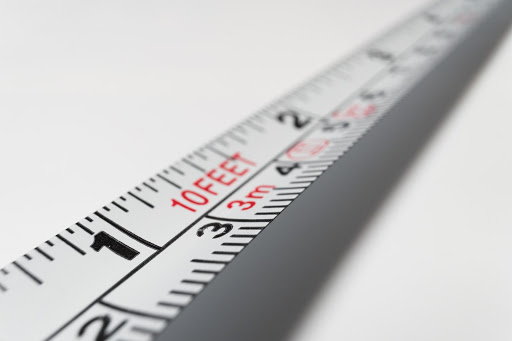 Don't worry, it's easy to measure and install window film yourself. Below are our instructions on how you can measure your windows to order the right product.
Here's how to measure windows for adhesive window film:
Measure the width of the inside of your chosen window (or any smooth surface).
Measure the height of your chosen window
Make sure both of these measurements are in cm
If your window is a semi-circle then you need the width and the height of the middle point.
Once you have these quick measurements you can find the costs of the designs you like and then you may want to double-check your measurements (or ask a friend to) before you place your order.
Is your window a different shape to the ones we've talked about? You can get in touch with us to get a quote for any window size or shape.
How to create your window designs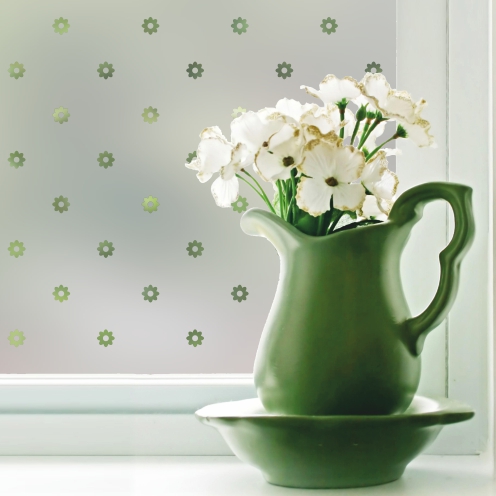 Applying adhesive window film is an easy process to do yourself. To apply any patterned window film all you need is a few basic tools. We even include a small application tool for free with all of our orders.
The main thing you need is soapy water which allows you to apply your film with no bubbles. Follow the steps below or if you're still unsure check out our simple window film video tutorials online.
Here's how to install patterned window film:
Clean the window thoroughly
Mix a few drops of washing up liquid with water in a spray bottle
Remove backing from your window film design to reveal the adhesive side
Spray with the solution in your spray bottle on the adhesive side and the glass
Apply the film to the glass and slide it into position
Squeeze the solution from under the film with the application tool
Trim any excess material
Use kitchen roll to wipe any excess moisture around the edges
Stand back and admire your new windows!
The great thing is Purlfrost films require little maintenance apart from a wipe with soapy water once a year. So once you've applied your patterned window films you're sorted!
Ready to move? – How to remove patterned window film
One of the biggest draws of choosing to use heritage window films is how easy they are to remove if you move or change your mind. Below you'll find the steps to remove patterned window film or check out our window film removal tutorial for a video step-by-step guide.
Here's how to remove patterned window film:
Put a few drops of washing up liquid into a spray bottle
Spray the film with the soapy water solution
Score the film into easy to manage strips
Use a glass scraper to gently peel the film off the glass
Gently peel all the film
Use the soapy water and the glass scraper to remove any leftover adhesive
Wipe the glass clean
These are the instructions for adhesive window film however if you've opted for static cling window film then the process couldn't be simpler. Just peel off and reuse!