Generally, installing window film onto a regular pane of glass is child's play. With the application tool provided with every purchase and some soapy water, it's very easy to produce a professional looking, bubble free, finish. For the larger, more complicated jobs, however; it may be worth hiring a professional.
Fitting Window Film: Professional Installation
If you have any doubts about fitting window film in your chosen place, even after watching our tutorial video, then please get in touch with us! We are able to offer a professional installation service for those bigger jobs, in places a little more difficult to get to. For example, if you are thinking of fitting window film up on a skylight or a very large pane of glass, it may be worth considering the difficulties of reaching these places safely.
Customised Window Film Designs
Window film does not just have to be a traditional "frosted design". It is possible for any number of different designs and colours to be used. Anything from a company logo to a mural – your imagination is the only limit. Many companies choose to use the space on their windows as extra space to market their business. A plain partition has far more impact when a professionally applied window film is added, with the company's logo emblazoned across it.
Here are some examples of what can be achieved when fitting window film, to inspire you:
Art gallery glass roof
For this project, UV control was required. Without this, precious artwork and photographs could fade. The film was applied to the interior of the glass roof to protect it from damage, wear and dirt.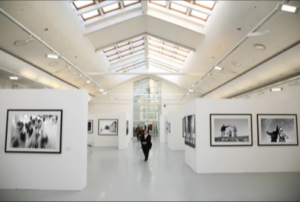 Moo Partition Graphics
This expanding business moved to a new office in Farringdon. We supplied them with bespoke cut graphics to make their office match their distinctive brand
.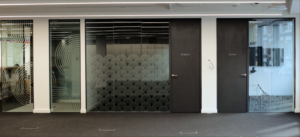 Reflective window film
his London hotel is a good example of the many uses of fitting window film. As well as offering privacy to their guests during the daytime, the reflective material also helps to keep the rooms cooler by preventing too much sunlight from getting inside.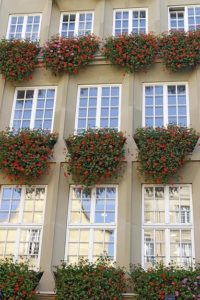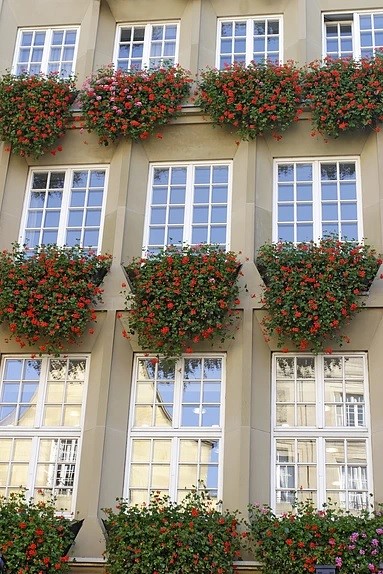 Coccinelle
Coccinelle required a large, colourful image that is easy to replace on a regular basis as new design seasons commence. This large-format printed photograph is applied externally to minimise disruption to the business.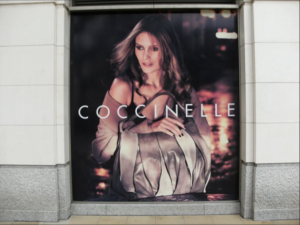 Webcredible Partition Graphics
A good example of just how intricate the designs on window film can be, this text-based graphic is printed on clear film and carefully applied to glass partitions within the office.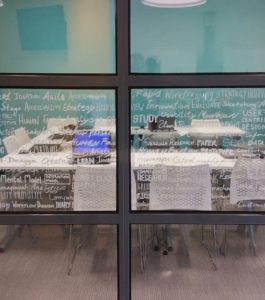 More Local
Privacy is one of the key drivers that make businesses consider using window film to tint or obscure their windows. In this case, bespoke graphics are printed on contra vision film. This film allows people within the building to see but prevents people outside of the building from seeing in.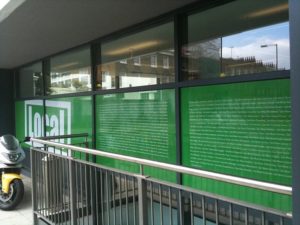 Professional Window Film Installation
Purlfrost offers a professional window film fitting service that covers all of London and the Home Counties. Our dedicated team of window film installers are trained in the art of installing window films of every kind – including privacy and solar control films, shop window graphics and partition designs. We have a massive range of products to choose from, and we have a printing service for bespoke graphics or designs.
Contact us for a quote or to ask us for more information on our range of window film installation products and services.