There's no denying that stained glass looks beautiful, especially in a traditional, period or artistic property. It's also great for gaining privacy if you're somewhere with high footfall. However, it can be costly and time-consuming to maintain, especially if the stained glass is older.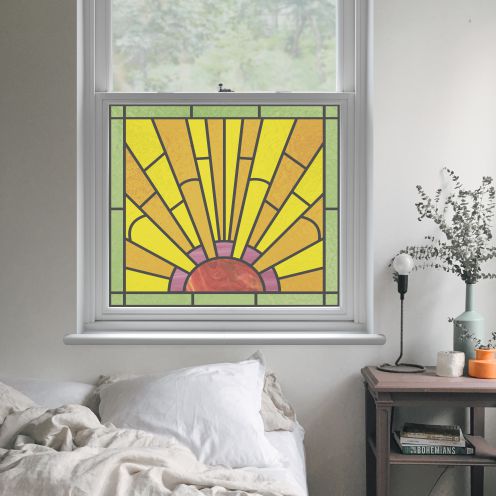 The problems with real stained glass windows
As pretty as it is, real stained glass window can come with some issues, so it's best to be aware of them before you decide to either fit stained glass windows, change the ones you have or embark on repairs:
Real stained glass is expensive to create, fit or maintain – virtually all repair, restoration or design/craftsmanship of a stained glass window needs to be done by an expert. This comes at a cost that's far higher than a usual window maintenance or replacement job, especially if you have a large or unusual shaped window.
Workmanship may vary – this is a risk you take with any type of home improvement, but not all stained glass is created equally and not everyone has the right skills. Glass is one of the most durable, and yet fragile, materials out there so much be handled with care – even more so when it comes to stained glass. Check references and previous work if you're having stained glass worked on so you can be sure it's in safe hands.
Damp conditions can cause damage – mould growth, structural damage, bowing or bulging, discolouration, rust, loose panels and condensation can all be a side effect of damp conditions. If your stained glass is older, it's likely that you'll run into these issues. Not ideal if you're in the UK where damp conditions are the norm!
Beware of lead – some older stained glass has lead in their frames, which can be harmful if disturbed and the dust is inhaled. This is more of a risk to manufacturers but is something to be aware of if you're having repair work or removals of stained glass.
Changing design can be difficult and expensive – trends and tastes change, and you might want to change the design of your stained glass window. This isn't something to take lightly as the craftsmanship, time and cost are all likely to be significant.
You sometimes need special permissions to change stained glass – if you live in a listed building or conservation area and want to change or update your stained glass windows, you may need to get approval for this.
They can be draughty– older stained glass can be draughty, especially if there's been normal movement in walls and window frames over time. This can lead to ineffective heating, as well as internal damp.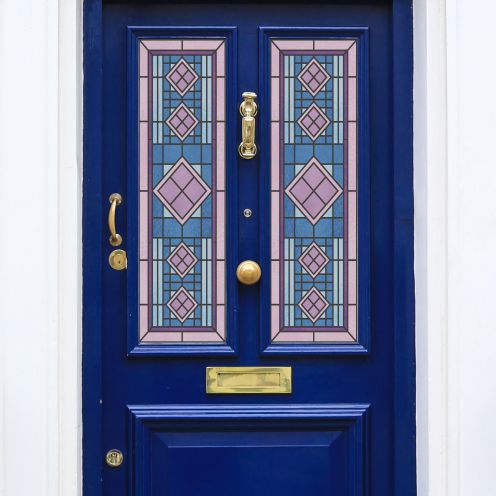 What's the alternative to real stained glass windows?
If you love the look of stained glass windows then there are some alternatives that can help you get the look of stained glass without the associated upkeep.
A custom stained glass window film is the easiest and most affordable way to get the stained glass look. What's even better is that it can be completely customised for the size of the window as well as the design you're looking for!
Our range of stained glass window films have been inspired by the designs of real stained-glass windows, so no-one ever needs to know the difference. We've also developed a method of incorporating high-resolution images of coloured glass for added vibrancy and a more realistic finish.
Because a stained glass window film is so easy to remove and replace, you can change your mind about the design as often as you like or explore more contemporary designs than would be possible with real stained glass.
The other alternative is of course, to forgo stained glass or coloured designs altogether. Keeping a window plain is certainly a practical option but lacks the aesthetic that comes with the look of stained glass.
How to fit a stained glass window film
Ordering and fitting a custom stained glass window film couldn't be easier – especially when you compare it to the headache of real stained glass.
First of all, you'll need to accurately measure the space you're looking to cover in centimetres. Then, take a look at our stained glass window films designs and choose your favourite one. We have everything from art deco, to gothic, Victorian, ethnic, floral and clear coloured designs.
If your window size is particularly unusual, or different to the sizes we have available, just get in touch and we can discuss this with you to ensure you get the shape and size that you're looking for. The design will be reshaped to suit the size of your windows, maintaining the integrity of the drawing.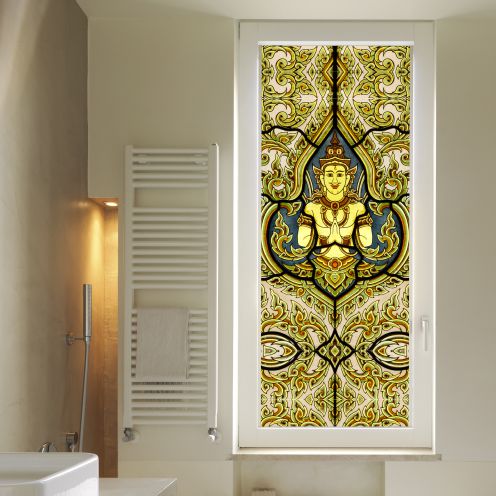 If you want us to replicate an existing period design, then we can do this too. Just send us a photograph of your existing glass panel and sizes. We can then provide you with a quote and some key information.
Once your size, design and payment has been confirmed we'll send out your selected window film directly to your address (rolled up to avoid damage, never folded).
Full instructions are provided along with the window film, along with a tool to help you to apply it to your window. However, it really can be applied in just minutes. Apply directly to your window using soapy water in a spray bottle and the application tool we send out. Once it's been smoothed out and attached, you can then remove the backing and should be left with a beautiful stained-glass effect window.
If you want more help, check out our video tutorial or pick up one of our installation starter kits so that you can really take the time to learn how to install your window film.
Are window films a good alternative to stained glass windows?
Based on cost, ease, versatility and practically – yes. They're convenient, inexpensive and easy to fit, especially when compared to real stained glass windows. You don't need to compromise on the look or design of your windows either, they can look as traditional or contemporary as you want.