As the busy Christmas period approaches, it's important to start thinking about your Christmas shop window displays. Not only do you need to showcase your best seasonal stock and offers, but you also want to stand out from the crowd. In this article, we're going to give you our tips for creating a Christmas window display with easy to use Christmas decorations for Shop windows. 
Your Christmas shop window display is the first thing that your potential customers see, so it is critical to create the perfect Christmas feel to draw them in. Your windows say a lot about your company, based on just that one snapshot your customer will decide if they want to step inside your shop or not. The perfect Christmas shop window display will give customers confidence in your products, showcase your professionalism and generate a desire to buy Christmas products. Your shop windows really are the starting point of the customer buying experience.
Christmas window stickers are a sure-fire way to give your shop windows a professional look, that won't cost you a fortune.  We think window stickers are the best Christmas shop window decorations because they're cost-effective, customisable and super easy to use. You can stick with the traditional stars, Christmas crackers or Santa but you can also go that one step further and choose your own Christmas Window decoration design. When you choose your own design you can also create brand awareness or convey a promotional message as part of your overall marketing strategy for the festive period.

Personalise your Christmas shop window display
Christmas shop window decorations can fulfil a number of different purposes.  They can create a festive mood for shoppers, attracting them to your shop, but they can also help your shop get more attention from passers-by. They may tempt new customers in, and remind existing customers of your Christmas offerings. It goes without saying that clear and well-designed window stickers will also serve to clearly communicate and promote the festive range of products that you have to offer.
Not sure where to start? Check out our tips for decorating a shop window.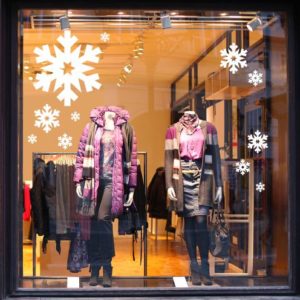 Easy to apply Christmas Window Decorations
Creating a Christmas shop window display can be a very time consuming and difficult task. Shop window stickers are perfect because they're very easy to apply and remove, the smaller ones can be easily installed yourself by your own staff. If you choose to purchase the self-cling variety of Christmas window stickers, they can be taken off in one piece and reused!
This makes them an ideal investment for future seasonal activity and not simply a one-off purchase. We advise opting for the higher quality adhesive cut vinyl options because they are much longer-lasting plus they look far more professional than lower-quality options.
Design Your Own Custom Window Stickers
Here at Purlfrost, we offer the option of designing your own custom Christmas shop window stickers. The custom window sticker design tool enables you to choose between all of the different colours and styles that we can supply. You can choose how much text you would like to be added to each of your Christmas window sticker designs, so you are able to completely customise the sticker to your specific needs. They can be made to precisely match your existing branding, and we can supply them in any size that you choose. When you design your adhesive Christmas window decorations online, you will be able to see an instant price based on your exact requirements. This simple purchasing process means that buying your stunning set of adhesive Christmas window products is as simple as installing them on your shop windows.
Purfrost Decorative Window Stickers
At Purlfrost we offer retailers a wide range of customisable window stickers.  You can choose a template to customise or come up with something totally new. A bespoke Christmas window sticker is a fantastic idea for any retail store, café or restaurant as it will really set off your windows this festive season. The high street is becoming an increasingly tough trading environment, so if you are missing out on this cost-effective storefront marketing opportunity, then you are missing out on the possibility of converting many customers who may well decide to do their Christmas shopping with one of your more festive-looking competitors instead.
Buy Christmas Window Decorations Online
Christmas time only comes around once a year, and all of the retailers on the high street are competing for the same set of shoppers. Making your shopfront look as exciting and festive as you possibly can is an essential task if you are going to attract new customers and persuade them to buy from your Christmas range. A bespoke Christmas window sticker that is designed and customised to your exact specifications and matches your corporate branding will go a long way towards achieving the best looking festive storefront on the High Street this winter.
Why not have a look at our range of Christmas windows stickers to see if you can create that perfect Christmas window display without blowing your budget?