With Christmas around the corner, it's time for retailers to put some thought into their displays. Embracing the seasonal spirit with a shop window display is not only welcoming, but also attracts customers into your shop. Here's out top ten tips for decorating your shop windows this Christmas.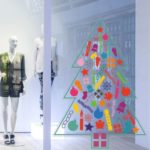 1. Decorate your Shop Windows with Festive Stickers
Festive stickers to brighten up your display. The range of stickers are bright and colourful, with a range of styles to suit any type of shop or cafe.
2. Make it a White Christmas with some Fake Snow
Add some fake snow for a wintery feel. Even if a white Christmas isn't in the forecast, add some fake snow to your shop window for that festive look.
3. Feature Your Sales with Festive Sale Stickers
Make your sale festive with winter sale stickers. A sale can encourage more customers but incorporate it into your festive design for a sleek transition from window to shop.
4. Show Off Your Favourite Party Pieces
Include your favourite party pieces. If you're a fashion or clothing store, glittery and sparkly items can attract the eye and complement a Christmas window feature.
5. Don't Forget The Baubles!
Use space wisely with hanging decorations. If you have limited space, hanging baubles, snowflakes or lights can accentuate a shop window without using up precious space.
6. Try a Designer Edge
Make your cafe or restaurant stand out with designer window stickers. People doing their Christmas shopping might want a break from the bustle; make your cafe look inviting and unique with our stickers.
7. Don't Distract from the Centrepiece
Showcase your products without a busy window display. These border stickers can highlight your best winter range without distraction or heavy use of festive decorations.
8. Get Passers-By Involved
Make it interactive. Add a camera and screen to your window which can include photo filters and targeted advertising to make your window fun and a place to be!
9. Make It Personal
Invest in a custom print. If you're design or shop is unique, this can be an option for you. Any sticker can be printed to show off your items and features this Christmas and help you stand out on the high street.
10. Have fun!
Include your staff in the process and ideas to see what they want. Make it a team exercise for more bonding and something they'll be proud of!