Frosted glass coverings
Wide range of films for privacy
Static cling or self adhesive options
Period etch effect and stained glass film designs
Suitable for bathroom and kitchen
House numbers and other glass stickers
Easy to apply even for a novice
Window film is very versatile
Window film is a thin vinyl formulated for use on glazing, which is applied directly to smooth non textured glass, and is suitable for residential or commercial interiors and settings. Either self adhesive or static cling, window film is designed for a wide range of permanent or temporary purposes. Glass film is very versatile and can be cut with intricate shapes, including letters and numbers, or be printed on allowing for striking graphics, using photographs or company branding.
Privacy window film
Instead of heavy and drab net curtains or blinds, privacy window film is the perfect stylish and clean alternative for your windows and doors, without having to sacrifice natural light. With many of us working from home, or living on busy streets, privacy and safety have become more of a concern. Privacy window film comes in many finishes including a frosted window film effect for privacy day and night, and one way mirror effect for daytime privacy. For a more bespoke finish, we also have a wide range of patterned and stained glass window film which will make your home more private, but also match your home's style or decor. Because frosted window film is resistant to condensation, it is suitable for use in a bathroom, a shower or cloak room, or a kitchen.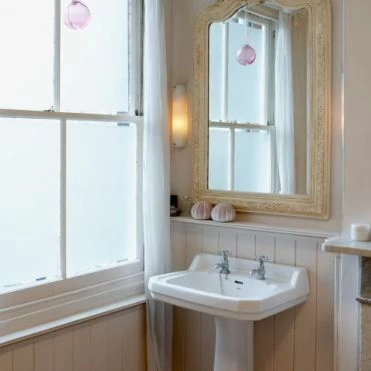 Frosted glass film
In order to make the glass opaque, frosted window film gives your glass a frosted finish similar to etched glass. Glass frosting film is very stylish, durable and easy to maintain, and will add privacy during the day but also at night. It can also be used for safety and added security by concealing your valuable items from prying eyes, and is therefore often used on the bottom half of bay windows. But as well as hiding your personel items, the film can also hide an unsightly view, whether permanantly or temporarely. We even have customers who use it to prevent their dogs from barking at the window. Frosted film is available off the roll by the metre in a choice of widths, or cut to measure to fit your glass exactly.
Decorative Window Film
You can add character to your home in an instant with our wide range of beautiful, intricate patterns, perfect for new-builds, contemporary interiors and period properties alike. Get a fresh new look with a stained glass window film and contemporary window film , and make your windows and doors stand out. Patterned frosted film is created by printing intricate patterns directly onto the film. The patterns can therefore be selected in a colour of your choice. To partially obscure the glass, you can also choose to have the pattern in clear within a frosted background.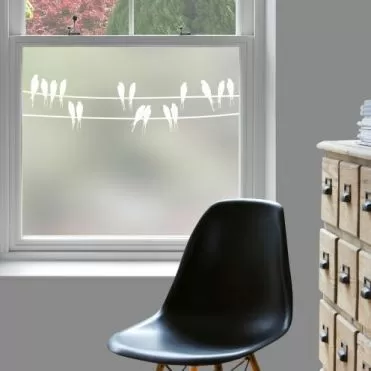 House Number Stickers
If you're looking to personalise your front door, you can create unique bespoke house number design stickers, in a selection of colours, designs and finishes. It really couldn't be simpler with our easy to edit templates. Just select a colour and material, entre the glass size and the text, and we will sent you a personalised house name or house number sticker for your front door, transom or fanlight which is very easy to apply in minutes, and will last for years.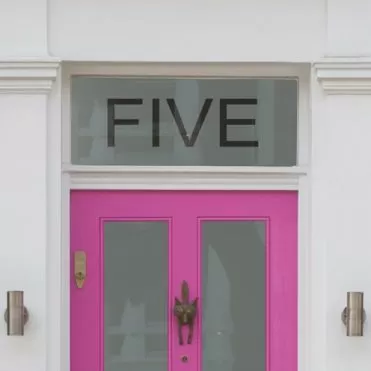 Solar control
If your home or office is too hot, and you are looking to reduce heat, excess glare, as well as decrease UV light that is fading your much-loved furniture, then our sun control films are a good place to start. Our solar reflective and tinted window films come in indifferent grades of shading, and help to reduce UV light by over 99%. Acting in a similar way to sunglasses or the tint in your car, the darker the films the more efficient they are, but the more daylight you will have to sacrifice. Mirror window film is a dual purpose material combining heat and glare reduction, and thanks to it's reflective finish, daytime privacy.
Safety and security upgrade
Window film can also be used to upgrade non comforming glass. Safety window film prevents glass from shattering in the event of breakage or collision, making it a more secure option. Security window film is a thicker material which is used to help prevent smash and grab attacks on retail outlets. Both films are clear so not to affect the view through the glass, but we also supply a safety frosted window film as well as a mirror reflective window film combined with the safety film.
For your office or business
Thanks to the products versatility, the fact that it can be printed on or cut into intricate patterns or logos, window film is often specified in commercial buildings and in office, either for solar control, enhanced privacy or to add punchy graphics on glass partitions. We supply stock designs and patterns, but we also work with you to create bespoke window films to suit your business needs. Please contact us with your requirments and we'll get back to you we a quote for design, or just printing and supply.
Buy with confidence from Purlfrost
Our website is packed with practical window films available for delivery in the United Kingdom from our London office building. Our customer service and experience is second to none and we are the highest rated window film company on Truspilot with over 10000 reviews from satisfied customers. We hold plenty of stock of a wide range of window films and tend to ship your items within 24h of your purchase, using either Royal Mail or TNT for shipping and prompt delivery throughout the country. Free shipping is available for orders over £100.00.
Is there a window film you can see out but not in?

Reflective mirror film is suitable as a daytime privacy window film. It therefore will not work at night when the lights are on in your room. For privacy day and night, frosting film is the best option. Alternatively, a patterned film with a small clear pattern will allow you to see out whilst restricting the view in, both night and day.

Is window film easy to remove?

Static cling window film is very easy to remove in seconds by simply peeling it off the glass. Self adhesive window film is more time consuming and you will need a glass scraper to remove the glue.

Does window film damage the glass?

Window film is a self-adhesive or self-cling material and as such can be removed at a later stage without damaging the glass. However, when selecting windows films for solar control, it is advisable to read the films specifications to ensure compatibility with the glass, especially ona double glazed unit.

Is glass film easy to apply?

Window film is easy to DIY and 99% of our customers apply their film themselves. The principle is simple using soapy water to slide the film in position, then squeegee out the solution and trim to suit. We supply you with easy to follow instructions and a free application tool with your order when you buy film online with us. Take a minute to watch our video tutorial.
Back to top