Cover windows and doors with our easy to use window film
Glass film is a thin material which is applied directly to your existing windows and doors, therefore saving on the cost of replacing or upgrading your glass. Why fork out for expensive frosted or patterned glass when you can simply pay the low price of window film and get the same effect?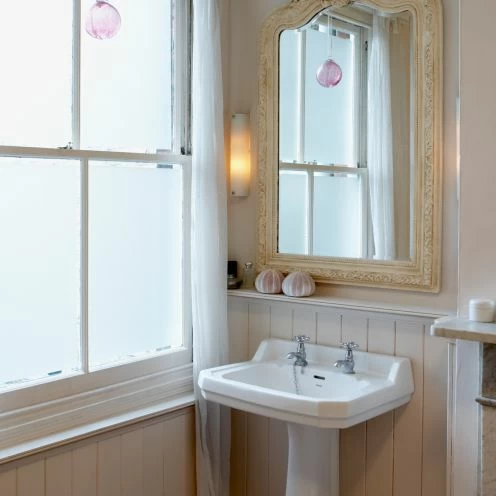 Window films are ideal for privacy
Most of our products are available to buy both by the metre or pre cut to size. With us, buying window film is easy. Simply choose a width and length for your chosen film, or enter your exact measurements on the online ordering facility. Installation only takes a few minutes.
The adhesive material is very versatile and thanks to the latest technology and computer-aided machinery, we can create very intricate, colourful images and patterns. As a result, we have an extensive catalogue of contemporary and heritage patterns which are a great alternative to patterned or stained glass, easy to apply and very cost-effective. We can also create completely bespoke designs like house numbers for instance. It couldn't be simpler with our easy to edit templates.
We have a wide range of products to suit your purpose:
What is window film used for?
Window film is used to upgrade or update your existing glazed areas, saving you the cost and effort of replacing glass. Window frosting is an opaque window film and a cost effective option to create instant privacy. Mirror window film can also be used for privacy and is effective in reducing the harmful effects of the sun. Other products are designed to enhance safety and security, or to jazz up your windows and doors with vintage or contemporary designs.
Is window film effective?
Window film is extremely effective and, in most cases, so much so that you won't even notice that there is a film on the glass. For example, window frosting is so well designed that once applied you would be hard pressed to see the difference with real frosted glass.
Is window film cheap?
Glass film is very affordable and most jobs can be done for under £50.00, and applied on your glass within a matter of minutes. Also, it is a lot more cost effective than replacing the glass, and all the time and decorating involved in the process. But it doesn't look cheap, and in most cases you wouldn't be able to tell that it was a glass covering. It is also environmentally friendly compared to the carbon footprint associated with producing replacement glass, net curtains or blinds.
How long does window film last?
It is a durable material which once applied to your windows and doors will last for many years. It also requires very little maintenance and can be cleaned just like normal glass using a non-abrasive tool and a mild detergent, such as soapy water. Most of our products come with a 5 to 10 year warranty.
Does window film damage the glass?
Window film does not damage the glass. It is a self-adhesive or self-cling material and as such can be removed at a later stage without damaging the glass. However, in some cases, it is not advisable to use glass film. For instance, if you are planning to blackout a double glazed unit where the glass is not toughened, make sure that the window is North facing so that it is not exposed to excess sunlight as it could result in the glass cracking.
Is glass film easy to apply?
Yes, it is very easy to DIY and 99% of our customers apply their film themselves with a small proportion opting for our installation service. We provide you with easy to follow instructions and a free application tool with your order. The process couldn't be simpler. Take a minute to watch our video tutorial.
How much does window film installation cost?
The cost of installation depends on the number and size of the panes that need covering, and the chosen material. Other considerations that will affect the cost are accessibility, whether there is existing film to remove, and whether the windows are so large that two fitters are required. To get a free quotation, please contact our installation manager who will get back to you with a quote. Please supply your name and address, the type of film required and the number and size of the panes. If there are access issues, please add some photos.
Is window film insulating?
Most solar control films, though primarily designed to keep the heat out, will add a level of insulation by helping to prevent the heat from escaping through the glass. Though not as efficient as double glazed units, when it comes to energy consumption, every little saving can help.
Great product and quick delivery. This is the second time I've purchased the window film and it's great. The installation instructions are clear and easy to follow and the end result is really good. Used this on our bathroom door to add privacy and it's done the job perfectly.
Back to top