Enhance Your Décor With Privacy Window Film
No matter what your tastes may be for residential window film, we are certain you will find something that perfectly fits with your interiors from our selection of professional privacy window coverings and stickers, which seamlessly combine style and functionality. The ideal choice for new-builds and period properties alike, you can enhance your privacy or security completely hassle-free.
To create your privacy glass with a minimalist feel, why not apply our frosted privacy glass film across the bottom half of a living room bay window? Our Glass Frosting Film can be applied directly to existing glass, giving the appearance of frosted or etched glass, without the complication or cost. Our easy to apply stick on window coverings are an elegant solution that are easy to clean and provide you with the privacy you require, without detracting from your decor or losing natural light. You can do your own home window tinting and create your own privacy glass on a budget, with no need to have privacy blinds for windows! And if you are wondering how to frost a window, our self adhesive vinyl takes only a matter of minutes to install!
For a more Decorative Window Film, express your creativity with our wide range of intricate and Patterned Film products to choose from. Add a pop of bold colour with our stunning coloured vinyl window film or incorporate a beautiful Art Nouveau, Art Deco or Victorian-style Stained Glass Film to your living room, side windows or fanlight windows. As well as stained glass effect films, we have a wide range of decorative privacy window films for you to choose from. Make a focal point of your window with our tinted privacy film or our Patterned Glass Film featuring stunning embossed patterns, from blooming flowers to more classical designs. You will love the results of your stylish privacy window coverings - and so will visitors too! Finding a decorative privacy window film that gives you the stylish look you are searching for, without compromising on security is what Purlfrost does best.
Looking for front door glass cover ideas? We also have a range of door number stickers with different types of glass treatments for you to choose from.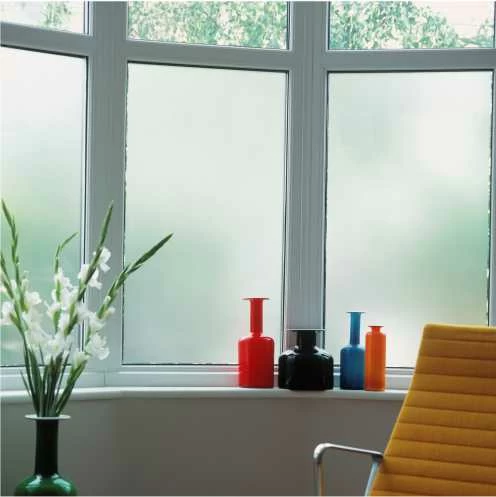 Frosted window film is ideal for a bay window
Privacy Window Film for Bathrooms
If you are looking for a privacy control window film or partial privacy film for your bathroom or shower window, our obscure glass window films can provide you with the privacy you need and effortlessly blend in with your decor too. No need for curtains, shutters or blinds!
All of our glass frosting films are fully customisable, so that you can create a glass window privacy film that is completely unique to your home and to reflect your interior style and decor. To create your personalised privacy window film, simply select your design, enter your dimensions and pick your chosen finish and we'll craft a privacy window film made just for you. Window film is similar to a sticker, self adhesive and resistant to condensation, and will last for many years.
Chesham patterned privacy film
Improve Home Security with Privacy Window Film
Not only are privacy window stickers a wonderful way to add character to your home and to experiment with different styles cost-efficiently, but they can also provide excellent functionality too. Hide precious valuables from prying eyes with our easy to apply frosting film, or Partial Obscure Films. For added security, we also have the stick on Blackout Film, white blackout window film, adhesive or cling for short term or long term use. All our blackout film for windows in the UK are made with the highest quality materials.
For the best of both worlds, we also have our One Way Mirrored Window stickers. The reflective window privacy screen has a sophisticated mirror-like finish, providing daytime security and successfully obscuring objects from view, whilst still enabling you to lookout. Simply put, we have an array of sticky back vinyl films for windows to suit every circumstance or preference.
Is privacy window film easy to install?

If you are wondering how to frost a window, you'll be glad to know it only takes a few minutes. Applying privacy window film has been made a lot simpler thanks to new material developments, and the implementation of the wet application technique for glass at home, but if you are looking for office window film ideas, it is also an excellent option. Using soapy water and the tool and instructions provided with your order, window film can be applied in a matter of minutes. To see how to install our textured window film, feel free to view our window film installation video tutorial for tips on how to apply small and large pieces of privacy film for glass at home. We also provide a window film installation service for London and within the M25. Feel free to contact us with your requirements.

Is there a window film you can see out but not in?

For a completely clear view through the glass, a Reflective or Mirror Window Film could be the perfect as a window film privacy option. Designed for glare, heat and solar control, mirror window film is made using a layer of metalised film giving a mirrored effect. This makes the glass look like a mirror when viewed from outside, meaning they still make great privacy window films. Widely used in office buildings, these one way mirror coverings are suitable for daytime privacy only. There are however some limitations and drawbacks sometimes with textured window films. Mainly, you will have to sacrifice some daylight, but also the window glass cover will not work on north-facing windows.

Is there a temporary privacy option for glass at home?

If you are wondering how to cover windows temporarily, or you are searching for a privacy film that can be removed easily after a short period of time, we also have some static-cling products which as the name indicates will just cling to the glass using a static electrical charge, meaning there is no need for privacy blinds for windows. In the right conditions, they will stay on for years and can be removed in seconds making them the perfect solution for rental properties. For more options on how to cover windows temporarily, we have a range of frosted, patterned, black and white Static Cling window film to choose from.

Does privacy window film work at night?

Frosted window film makes the glass opaque adding privacy both at night and during the day. Mirror window films on the other hand will only give you privacy during daytime hours as once it gets dark outside and the lights are on inside, the privacy effect will be lost.

What is the best privacy window film?

By far the best option for day and night privacy is frosted window film which has become a very popular alternative to nets and blinds. This sticky back plastic window film looks very smart when applied to the bottom half of a bay window, is easy to keep clean and allows plenty of light through and gives you the opacity required. When it comes to bathrooms, privacy is of the utmost importance and a frosted window film or decorative window film would be perfect in most cases.

If your bathroom is at close proximity to a neighbour's window, or on a ground floor, we would recommend our white frost which is more of an opaque window film, and makes an ideal privacy window sticker for bathroom windows or doorss. For a complete blackout film for your glass, white or black blackout window film gives you the opaque window effect necessary to block out the view or to make your room darker.

Can privacy window film be used for security?

By making the glass in your windows and doors opaque or reflective with privacy window stickers, you will enhance your home or business security by keeping your valuable items away from prying eyes. For added safety, when applying film on older glass panes in public buildings for example, you can also apply a Frosted Safety Film which is made of a thicker material and is designed to upgrade the glass to avoid shattering when broken.
Back to top