Enhance Your Security With Privacy Window Film
Here at Purlfrost, we supply a wide selection of privacy window film, from tinted privacy film and one-way mirror window stickers to more decorative options like frosted film. You can also use privacy window film to hide unsightly views, add security by hiding your valuables or simply jazz up your windows and doors with modern or period style designs.
Privacy window film works by either making your glass opaque or partially obscured, or by making the glass reflective. There are several ways to make your glass windows and doors more private, using smart looking and easy to apply stick on window film products, which won't break the bank. You can essentially do your own home window tinting and create your own privacy glass on a budget. If you want to find out which is the best privacy window film for you, we have the solution.
Below is an image of frosted glass film used on the bottom half of a living room bay window. This is a clean, stylish and affordable solution when your property is overlooked, especially on the ground floor. By frosting the bottom half of your windows, you can benefit from day and night privacy with very little loss of natural light.
Frosted window film is ideal for a bay window
Privacy window film can improve the security of your home
The best option by far is a film that will cover the whole pane or part of the pane depending on the height to which you require. Glass Frosting Film is an ideal solution as it can be applied directly to the existing glass, and makes it opaque just like frosted or etched glass. Installation of your privacy window stickers couldn't be easier, using soapy water and the application tool that we supply with every order.
If you're after something a bit more personalised we also have a range of Decorative Window Film which is a film embossed with various patterns ranging from flowers and blossoms to classical patterns.
We also have a range of Patterned Film and Stained Glass Films with contemporary patterns and period designs from the Victorian, Art Deco and Art Nouveau eras. The designs are fully customisable and you can select to have the patterns in a colour of your choice, or in clear allowing you to see out. These designs are very popular and will add kerb appeal to your property in minutes.
Chesham patterned privacy film
Partial privacy film for the best of both worlds
Stick on blackout film is great for events or purpose-built rooms but if you still need to see out through the film, then a design from our range Partial Obscure Films might be a solution. The film is made of white patterns on a clear background allowing you to see through the gaps. These are very popular for commercial interiors and ideal for glass partitions. If it's a home solution you are looking for, then our Patterned Glass Film collection is probably more appropriate. Just select the pattern in clear rather than in a coloured version.
Unrestricted view out with mirror privacy film
For a completely clear view through the glass, a Reflective or Mirror Window Film could be the ideal option. Designed for glare, heat and solar control, reflective window films are made using a layer of metalised film giving a mirrored effect. This makes the glass look like a mirror when viewed from outside, meaning they still make great privacy window films. Widely used in office buildings, this film is ideal for daytime privacy only. There are however some limitations and drawbacks. Mainly, you will have to sacrifice some daylight, but also the film will not work on north-facing windows.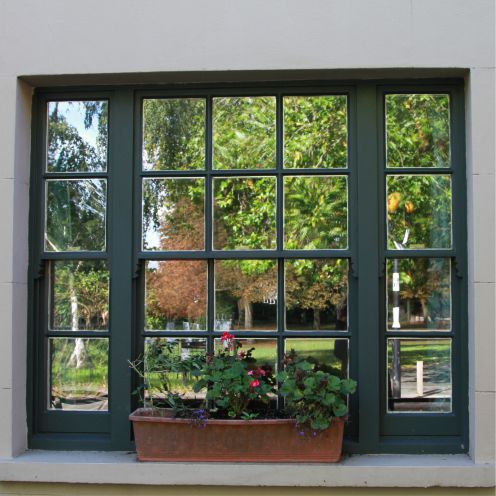 Daytime privacy mirror film
Bathroom window coverings
When it comes to bathrooms, privacy is of the utmost importance and a frosted or patterned film would be ideal in most cases. However, if your bathroom is at close proximity to a neighbour's window, or on a ground floor, we would recommend our White Frost which is more opaque and makes an ideal privacy window sticker for bathroom windows or doors.
Complete blackout window stickers
The other way to achieve privacy is by applying a Coloured Vinyl or a Blackout Film. These are ideal for converting glass into opaque surfaces. However, they will also stop most of the light coming through. Perfect for an event or space that requires darkness!
Temporary window cling
If you are looking for a temporary solution, or for a privacy film that can be removed easily after a short period of time, we also have some static-cling products which as the name indicates will just cling to the glass using a static electrical charge. In the right conditions, they will stay on for years and can be removed in seconds making them ideal for rental properties. For privacy, we have a range of frosted, patterned, black and white Static Cling.
For added security
By making the glass in your windows and doors opaque or reflective with privacy window stickers, you will enhance your home or business security by keeping your valuable items away from prying eyes. For added safety, when applying film on older glass panes in public buildings for example, you can also apply a Frosted Safety Film which is made of a thicker material and is designed to upgrade the glass to avoid shattering when broken.
Installing privacy window stickers
Applying privacy window film has been made a lot simpler thanks to new material development, and the implementation of the wet application technique. Using soapy water and the tool and instructions provided with your order, window film can be applied in a matter of minutes. Feel free to view our Window film installation video tutorial for tips on how to apply small and large pieces of privacy film. We also provide a window film installation service for London and within the M25. Feel free to contact us with your requirements.
Back to top