Make your bathroom windows and doors opaque in minutes!
Wide range of products & designs
Frosted film or patterned coverings for bathrooms
Available by the metre or cut to size
Easy to apply in minutes
Resistant to condensation
When it comes to privacy, there's no more sensitive area than the bathroom. Unfortunately, when it comes to making the room feel private, there are currently only a few options, including patterned glass, blinds and shutters, which are not always practical or very stylish, and can also be expensive and lead to loss of natural light.
Bathroom privacy film is easy to apply directly to the existing glass (as long as it is smooth and non-textured) and is resistant to condensation. It is suitable for windows, doors, and can also be applied externally on a shower cubicle thus avoiding direct contact with water.
There are plenty of options available to cover your windows, including patterned bathroom films suitable for modern and period properties, or to match you decorating theme. We also have a range of nautical and aquatic patterns like our Shipping Forecast design.
Our patterned designs are also available in a colour of your choice, and made to order to your exact measurements making the installation process even easier.
Bathroom Window Film FAQs
Here are a few frequently asked questions.
Why use window film in a bathroom?
Window film is the ideal material for bathrooms as it is easy to apply directly on your existing windows and doors, therefore saving you the cost of replacing the glass and re-painting the frames. It is also extremely durable, resistant to condensation, and very easy to maintain and clean.
Unlike blinds and shutters which will make your bathroom darker, our bathroom privacy films are translucent and therefore allow plenty of natural light into the room. We have a wide range of products and designs available to suit your property or decor.
I'd like a frosted bathroom window
Simply apply a Bathroom Frosted Film directly to the glass to make it opaque. The film is a self-adhesive material with a grainy pattern embossed to give it the look and feel of frosted or etched glass, and is very realistic and efficient at making the glass obscure.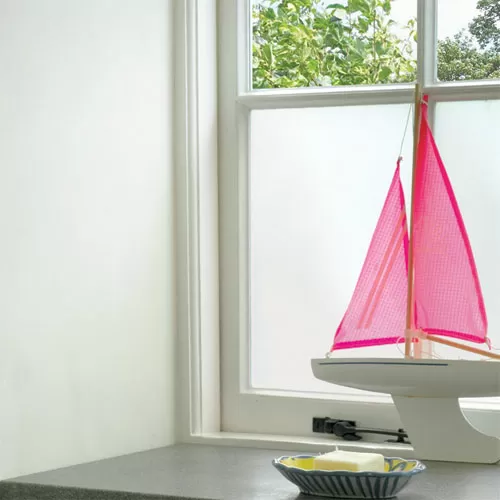 How do you cover a bathroom window?
Window film is a DIY product and is very easy to apply in a matter of minutes using soapy water in a trigger bottle and the application tool supplied with your order. Our bathroom window films can be ordered cut to size making the installation process even easier. Take a minute to watch a video tutorial. It's really that easy.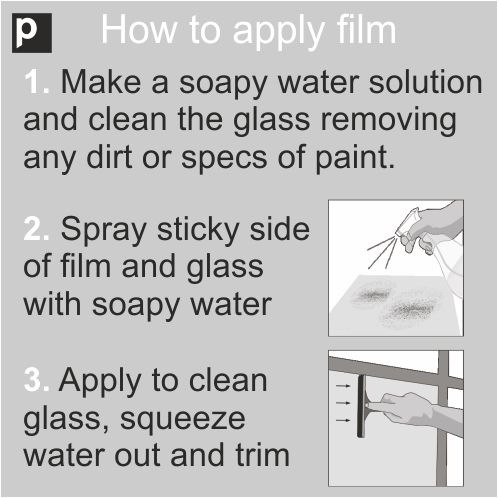 LH just left a 5-star review of Purlfrost Window Film:

Fantastic product, was packaged well for delivery. The design looks amazing, accurately made to measure and simple step by step instructions provided making the installation easy to put on. Quality at a very high standard, the bathroom window film is eye catching and at the same provides privacy.
Back to top