Frosted bathroom window coverings
Available by the metre or cut to size
Easy to apply in minutes
Resistant to condensation
Little loss of natural light
For privacy day and night
When it comes to privacy, there's no more sensitive room in your home than the bathroom. There are currently only a few options, including blinds and shutters, which are not always practical or very stylish, and can also be expensive and lead to loss of natural light.
Bathroom window film is a thin, waterproof sticky back plastic material, which acts as a screen and can be applied to any smooth, non textured glass, on a window or door, even a shower cubicle (avoid direct contact with water by applying the film on the outside of the glass cubicle).
Bathroom window coverings are self adhesive and very easy to apply in minutes, just like you would a large sticker. They can also be removed at a later stage without damaging the glass, making them ideal for rentals or to update your interior design theme. The main benefit, aside from enhanced privacy, is that because the frosted bathroom window treatment is translucent, it allows plenty of daylight through. Bathroom window privacy film requires very little maintenance apart from a wipe with sopay water once in a while.
Bathroom window frosting film
Frosted window film is the best privacy film for bathroom windows as it is easy to apply directly on your existing windows and doors, therefore saving you the cost of replacing the glass and re-painting the window frame. Because frosted window film is self adhesive, it is also extremely durable, waterproof, and very easy to maintain and clean.
Unlike blinds and shutters which will make your bathroom darker, frosted glass film for bathroom windows is translucent, and unlike other window coverings like net curtains and blinds, will allow plenty of natural light into your room. Once applied, the privacy effect is immediate makling the glass opaque instantly.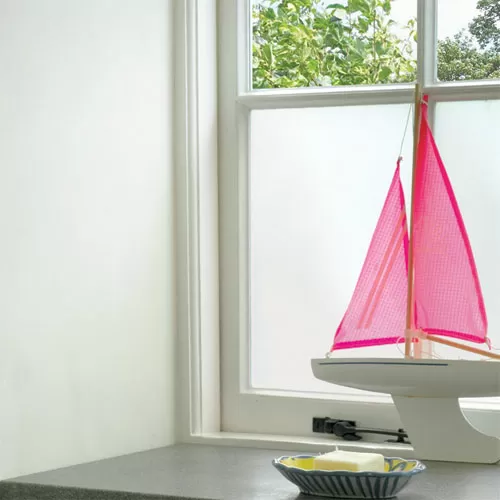 Decorative bathroom window ideas
Window film is a very versatile material and it allows us to print very intricate patterns directly on the film. We therefore have a wide range of products and patterns to suit your bathroom style, colour scheme or decor, whether in a modern setting or a period property.
Our alternative bathroom window privacy ideas includes patterned window film, with a collection featuring contemporary, geometric, Art Deco and Victorian patterns, as well as vibrant stained glass window film designs which will add colour to your interior.
We also have a range of bathroom specific nautical and aquatic patterns like our Shipping Forecast design below. Our decorative themed designs are made to measure to your exact measurements, and printed on frosted glass film. You can also select a colour for the pattern to match your bathroom decorative theme.
Our bathroom themed designs are also available with the pattern clear within a frosted background allowing you to partially see out. This option is suitable for a bathroom which is not directly overlooked, or a high level window above a door for example.
Personalised bathroom window film
If you are looking for something a little bit more personal and bespoke for your bathroom window or door, our online tool allows you to create personalised bathroom window coverings with your own text or numbers printed in a colour of your choice on a window frostingd film. The process is very simple. Just measure the pane of glass and enter the width and the height in the corresponding fields. Then enter your text, and select a font and colour.
Buy bathroom window film online with confidence
Our website is packed with practical window film products for your bathroom or your home, available for delivery in the UK. Our customer service and experience is second to none and we are the best rated window film company on Truspilot with over 10000 reviews from satisfied customers. We hold plenty of stock of a wide range of window films and tend to ship your order within 24h of your purchase. We offer free UK mainland shipping for orders over £100.00.
How do you order bathroom window film?

To place your order on our online shop, you might first need to measure your window to get an idea of the quantity of bathroom frosted window film you need to complete your project. For custom designs which are cut and printed to measure, you will need to supply the actual measurements of the glass for us to provide the film to fit the glass exactly.

Can bathroom window film be applied to any window?

Bathroom window film is suitable to any window whether single or double glazed. As long as your glass is smooth and not textured, the film is applied directly to the glass and will make it opaque instantly. Frosted glass film has a subtle grainy pattern embossed to give it the look and feel of frosted or etched glass, and is very realistic and efficient at making the glass obscure.

How to cover a bathroom window?

Window film is a DIY product, similar to a large sticker, and is very easy to apply in a matter of minutes using soapy water in a trigger bottle, and the free application tool supplied with your order. Our bathroom window coverings can be ordered made to measure making the installation process even easier. Feel free to watch our video tutorial.
Back to top