Transform your Windows and Doors in Minutes with our Opaque Window Film
At Purlfrost, our frosted window film is second-to-none; it's in our name. Our window frosting is made from a thin translucent material which is applied directly to your windows or doors, on smooth non-textured glass, on wooden, metal, aluminum or UPVC framed windows. Once applied, frosted glass vinyl gives your windows the appearance of frosted glass, making it opaque and ideal for day and night privacy. Our frosted privacy window film can also be used to obscure an unsightly view, or to enhance security by hiding your valuable items from prying eyes.
Order by the metre (easy to mark and cut)
Order cut to size (using a computer-aided plotter)
For home or office
For privacy or security
Suitable for bathrooms and kitchens
Easy to install (with no air bubbles)
Free application tool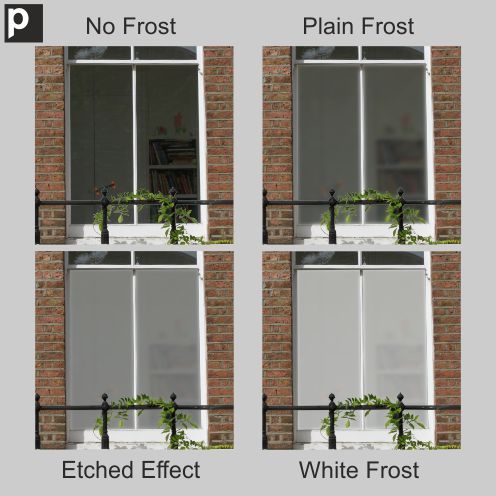 It is now widely used as a modern, practical and stylish alternative to nets and blinds, by applying the stick on window frosting to the bottom half of a bay window for example. Glass frost film is multi directional so will look the same whether applied horizontally or vertically.
Our frosted window film is also suitable for kitchens, bathrooms, toilets and shower rooms as it is resistant to condensation. For extra peace of mind and if you are concerned that people can see through a frosted bathroom window, we have a denser frost for that purpose. Adhesive window frosting is also a much better option than frosted glass spray as it will give a long lasting sandblast finish, with no mess.
Which window frosting should I choose for privacy?
Our plain frost is ideal for most privacy-related purposes and is perfect for a home or office setting. It is colourless and looks very subtle when applying to the glass, and the loss of natural light is minimal.
Our white frost is denser and more opaque, making it ideal for bathrooms, shower rooms and toilets.
The etched glass effect films have a sparkly finish similar to 3M films, and also come in blue, green and pink, and are a very decorative option for glass.
Opal frost is 1.5m wide making it ideal for glass partitions and large panes of glass.
Our static-cling film is very easy to remove, making it ideal for temporary uses and rental properties.
Patterned window film has a pattern or design which has been either cut out of or printed on to the film. They are similar to having a large patterned window sticker. At Purlfrost, we have a wide variety of designs to choose from to suit any interior scheme, from art deco and art nouveau to stained glass and victorian designs. You can even create your own frosted glass film and add your own text.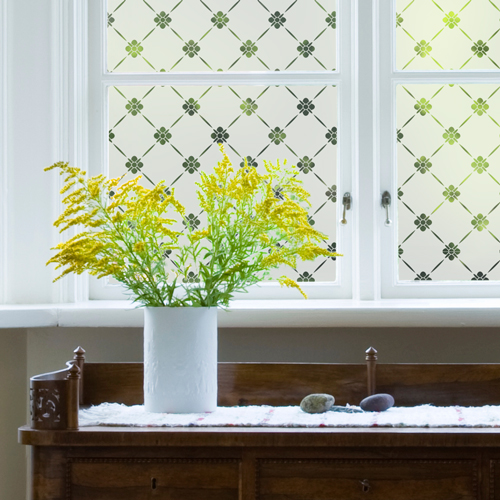 Lesley Gornall left a new 5-star review of Purlfrost Window Film:

I purchased the plain frosted window film for my bay window at the front of the house. We live on a main road and passers by can't seem to help but gaze in, even when we give them a wave! This is an excellent way also to deter my dog from barking and jumping up at the window at dog walkers passing by and has considerably decreased barking at delivery people to ours or neighbouring properties. It was straightforward to put up, instructions were easy to follow and with two of us working together the whole project was completed in less than an hour. We have covered the centre two panes of a four pane bay at the moment and are trialling this regarding the barking, if necessary we may cover the remaining two. I am very pleased with the result, it hasn't interfered with light coming into the room, it is subtle and from outside is barely noticeable. A perfect quick solution to our problems which is convenient and affordable.
Should I order frosted film by the metre or cut-to-size?

If you buy the window frosting by the metre, most of our products have a metric grid printed on the backing paper to make it easier to mark and cut. The static and opal frosts come with clear backing. To save time, you can order your frosted window film cut to size. Just measure your panes and enter the measurements in the required fields, and the price will calculate for you. All our films are cut using a state of the art computerised cutting machine accurate to 0.5mm.

Is self-cling or self- adhesive window frosting better to obscure the glass?

We recommend a self adhesive frost or stick on window frosting to cover your windows and doors for long-term applications as it's more durable and less prone to being picked away by little hands. The second option, self-cling frosted film, will last for years, but the day you need to remove it, you can peel it off in seconds, making it an ideal temporary glass frosting option.

Can frosted film be used externally?

You can use adhesive frosts externally, on the window facing side of a glass glass balustrade for example, and avoid direct contact with the elements if at all possible. We don't recommend static frost for exterior use as it is more likely to fall victim to high winds. We only offer a warranty for internal use but if applied properly the film will last for many years.

Is stick on glass frosting easy to apply?

To apply the window frosting film, all you'll need are a few basic tools, and we even throw in a small application tool with your order for free, along with a set of instructions. Soapy water is the key ingredient, as it allows for a bubble-free application. So in a nut shell you remove the protective backing first, spray the adhesive side and the glass with soapy water, stick the frost on the glass and squeeze out the water with the tool provided.

Once applied, Purlfrost films require little maintenance apart from a wipe with soapy water once a year.

Please take a minute to watch our video tutorial. We supply thousands of customers a month who have never applied window film before, and according to the great feedback and our 5 star rating on Trustpilot, our instructions must be very helpful as success rate is 99.9%.

Other uses for frosted glass film

If your dog is constantly barking at the window, the best way to stop it is by applying a band of frost to the glass to hide the view externally. Apply a band high enough so that your dog can't see out even when standing on it's hind legs.

What can I do with the off-cuts of frosted glass film?

If you purchased your film off the roll, chances are you'll have some extra material left over. At Purlfrost, we tend to give any left over materials, like coloured vinyl film to local school where they can be used for craft. If the film you purchased has a paper backing, you'll notice some simple designs printed on it, including numbers, which can be cut out to create window stickers, like glass safety dots for patio doors, or to add a house number to your front door or the transom above it.

How to remove frosted glass vinyl?

Static frost comes off in seconds by just peeling it off the glass. Adhesive film takes longer to remove and you will need a glass scraper to remove the film and the adhesive. Please take a look at our video tutorial.
Back to top