Easy to apply in minutes (with no air bubbles)
Available off the roll by the metre (easy to cut)
Cut to size
Contemporary and period designs
Cost-efficient quality products
Provides privacy or security, night and day
Versatile: suitable for bathrooms and kitchens
Self-adhesive or static cling options
Ideal for privacy
Frosted privacy window film is the clean and elegant solution for obscuring rooms from view, and thanks to the translucent quality of the material without having to sacrifice natural light.
Once applied, the stick on glass frosting film gives windows and doors a sleek look similar to sandblasted or etched glass, making it instantly opaque for complete privacy. Obscuring window film is a very popular and cost effective solution for your privacy requirements. No need for heavy, claustrophobic curtains that make your interiors feel drab and dreary. In fact, many of our customers purchase the film as a light and airy alternative to net curtains and blinds, by applying our adhesive vinyl window stickers on the lower half of a bay window, in keeping with a more minimalist style.
For enhanced security and safety
Many of us are now working from home, with our computer screens and laptops on show, potentially sharing intimate or sensitive information with passers by. This can also be a greater issue at your place of work, in a shared office or one with clear glass partitions where your data could be compromised. By the simple act of frosting windows, you will instantly hide your valuables from sight, making you feel more secure, with little loss of natural light.
Frosted bathroom window the easy way
If your bathroom, toilet, or shower room needs a little pick-me-up and added privacy, our frosted glass film is an excellent solution, as it is completely resistant to condensation. Tastefully update your room with our opaque film available in a range of colours and designs, including room specific designs with a nautical theme. If you are concerned that people may be able to see through, if your window faces a main road for example, we also have a denser white frosted film for extra peace of mind.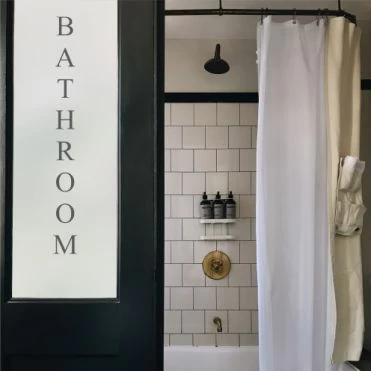 Wide range of glass frosting products to suit your needs
We always keep a significant amount of film for glass in stock, which can be purchased on our website off the roll in any length, or cut to your exact measurements to make the installation process even easier, saving you the time you would otherwise spend marking out the film.
Our plain frost is ideal if you are looking for a window film with a subtle finish that provides the privacy you require with a negligeable loss of natural light. This product is perfect for a home office setting or to hide items from view in an appealing way. This window film is offered in 1m, 1.2m and 1.5m widths, in a length of your choice up to 50m.
Our white frosted window film is a denser and more opaque film, making it the perfect choice for bathrooms, shower rooms and toilets, or areas where privacy is more of a requirement.
The etched glass effect films range (in blue, green and pink) is a fun way to introduce a pop of colour to a space and an excellent decorative option for glass.
Our static-cling film is removable in seconds as there is no glue to remove, making it an attractive option for renters and homeowners alike. Though this product is designed for temporary purposes, it is very durable and will last for many years if required.
Contemporary and period frosted film designs
Beautiful yet functional, our patterned window film is a stunning way to add a decorative touch to your living room, front door, or even your cupboard doors. We have a wide-ranging collection of contemporary styles, as well as period designs from the Art Deco, Art Nouveau and Victorian eras. The frosted window film patterns can be printed in a colour of your choice, or appear as transparent within the film giving them the appearance of acid etched glass.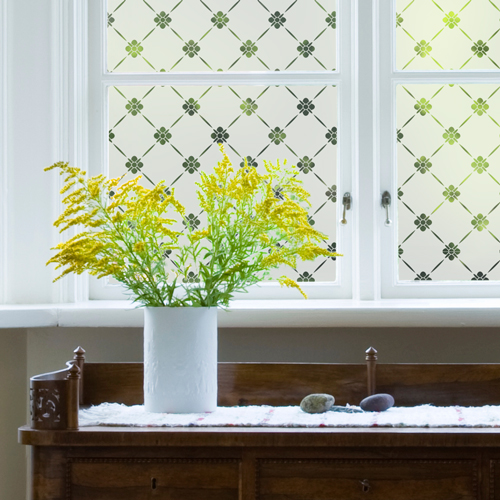 Frosted glass film prevents your dog from barking
Installing frosted glass film on a front door or street facing windows can also help if you have a dog who tends to bark at passersby. Applying a frosted glass sticker to obscure the lower section of a window can help alleviate this, but do make sure it's applied high enough so that your dog can't see over the film even when standing on its hind legs, as otherwise the window frosting will not have the impact it should!
Better than glass frost spray
Frost effect spray is a messy product and the resulting finish can be patchy at best, and very prone to being scratched. Frosted or patterned film will give you a flawless, long-lasting, attractive sandblast finish, with no mess.
Ordering your frosted glass film
When ordering window films by the roll, selct a width and a length of material and add to basket. Once you have received your order, you will need to measure the glass and cut the film roughly to size. It can be trimmed to fit once applied. For ease of application, or for bespoke made glass window film designs, you will first need to measure the width and the height of your panes and the film will be produced exactly to these measurements.
Buy frosted glass film online with confidence from Purlfrost
Our website is packed with practical and stylish glass films and frosted stickers, available for delivery in the UK from our London office building. Our customer service and experience is second to none and we are the highest rated window film company on Truspilot with over 8000 reviews from satisfied customers. We hold plenty of stock of a wide range of window films and tend to ship your items within 24h of your purchase for prompt delivery using either Royal Mail or TNT for shipping throughout the country. Free shipping is available for orders over £50.00.
Does frosted glass film provide privacy at night?

Frosted glass effect film provides privacy both during the day and also at night, even when the lights are on. However it is worth noting that frosted privacy window film is more efficient the further you are from the window. If you are within a few inches of the glass, you'll appear as a blurry shadow.

Is self-cling or self- adhesive window frosting better to obscure the glass?

We recommend a self adhesive glass window film for long-term applications, as it will be more durable and less prone to being picked away by little hands. The second option, self-cling frosted film, will last for years, but the day you have to remove your frosted window covering, you can peel it off in seconds, making it an ideal temporary option.

How to frost glass?

Applying frost film on glass is very much a DIY project where no previous experience is required, but make sure you clean the window first. Along wth our easy to follow instructions, all you will need are a few basic tools like a spray bottle, and we supply a felt edged application tool with your order for free. Soapy water is the key ingredient, as it allows for a bubble-free application.

Once applied, Purlfrost film requires little maintenance apart from a gentle wipe with a damp cloth once a year.

Please take a minute to watch our video tutorial to learn how to apply your opaque window film.

Can glass frosting film be used externally?

You can use the adhesive opaque window film externally, on the window facing side of a glass glass balustrade for example, and avoid direct contact with the elements if at all possible. We don't recommend static frost for exterior use as it is more likely to fall victim to high winds. We only offer a warranty for internal purposes, but if applied properly the film will last for many years.

Can you see through a frosted window?

You won't be able to clearly see through the glass with the film on. The film is translucent, allowing light through, but not transparent. The privacy effect works both ways, so people can't see in, and you can't see out. Objects right up to the glass will be discernible, and anything a few inches away will be blurry.

Should I order frosted window film by the metre or cut-to-size?

If you buy our films by the metre, most of our products have a metric grid printed on the backing paper to make it easier to mark. The static cling frosting film come with clear backing. To save time with your window frosting, you can order your frosted window film cut to size. Just measure your panes and enter the measurements in the required fields, and the price will calculate for you. All our frosted privacy window coverings are processed using a state of the art computerised cutting machine accurate to 0.5mm.
Back to top