Highlight patio and sliding doors at home
Make glass partitions and glass entrance doors clearly defined
Easy to apply
Cut out of etch effect window film
Packs of dots or squares for small jobs
Ready made continuous strips for large jobs
For health and safety or to comply with building regulations
Glass manifestations are self adhesive designs cut out of etch effect window film, which when applied look as if they had been sandblasted onto the glass, and help avoid walking into the glass. The main benefit is the huge cost saving compared to etching glass, as manifestation decals can be retro fitted in situe to existing glass, and can be removed at a later stage if required. Manifestation can consist of any device that will make the glass stand out visually with the background. Rows of stickers - e.g. glass manifestation dots - are very popular and a stylish solution. Our individual packs are perfectly suited to cover small areas, but for larger job our continual strips of evenly spaced manifestations will save you a lot of time.
Building Regulations 2010: Document K
Manifestations are designed to mitigate the risk of collision at work, in retail outlets or in public spaces, where it is a legal requirement to highlight large glazed areas as stipulated in Document K: Building regulation in England covering the buildings users protection from falling, collision and impact in and around the building.
Critical locations include large uninterrupted areas of transparent glazing which form, or are part of, the internal or external walls and doors of shops, showrooms, offices, factories, public or other non-domestic buildings.
Building Regulation 2010: Part M
Here are some guidelines on how glass entrance doors and glazed screens can satisfy the Part M "access to and use of buildings" regulations:
Provisions
2.24 Glass entrance doors and glazed screens will satisfy Requirement M1 or M2 if:
a. they are clearly defined with manifestation on the glass at two levels, 850 to1000mm and 1400 to 1600mm above the floor, contrasting visually with thebackground seen through the glass (both from inside and outside) in all lighting conditions;
b. manifestation takes the form of a logo or sign at least 150mm high (repeated if on a glazed screen), or a decorative feature such as broken lines or continuous bands, at least 50mm high;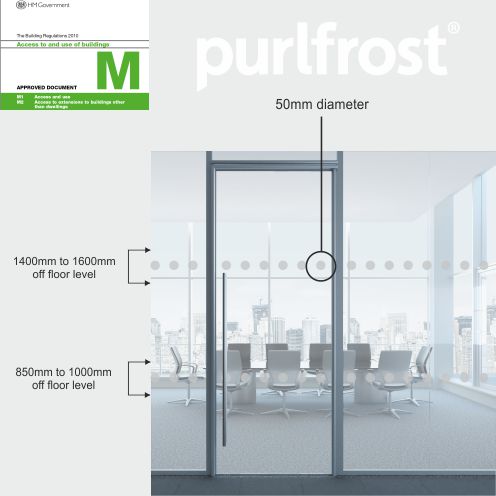 any glazed screens alongside a corridor are clearly defined with manifestation the glass at two levels, 850 to 1000mm and 1400 to 1600mm, contrasting visually with the background seen through the glass in all lighting conditions (see 2.24(b) for details of manifestation).
Further considerations for the visually impaired should be included
2.22 People with visual impairment should be in no doubt as to the location of glass entrance doors, especially when they are within a glazed screen. The choice of a different style of manifestation for the door and the glazed screen can help to differentiate between them.
Workplace: Regulation 14
Safety stickers are also a requirement with regards to workplace health and safety. Regulation 14 is a legal obligation to manage and control the potential risks from glass. Under the regulation, glass in offices and business premises must be:
Safe from breakage

Made visible to avoid accidental collision
Manifestations for your home
Glass manifestation stickers are also ideal for home setting. If you don't fancy the more ubiquitous glass manifestation dots or squares, you could use decorative window stickers to create the same effect, giving a more homely feel to the glazing and adding a decorative feature. The principal is the same, and by simply highlighting glazed areas with a contrasting material, you will greatly reduce the risk of injuries possibly involving children, pets or new visitors to your house.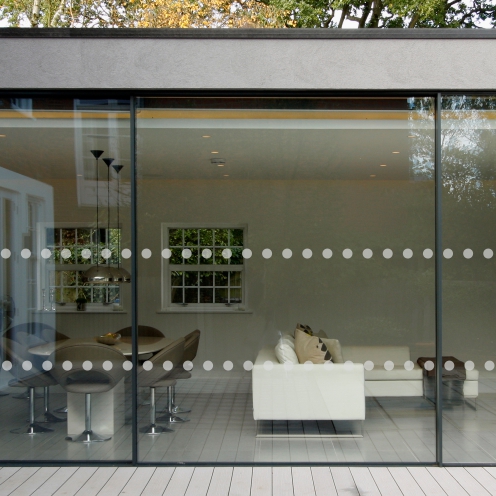 Manifestation strips or bands
For large areas of glazing, we supply ready made continuous strips of evenly spaced designs which make the installation process quicker and easier. The strips can be applied end to end to create the required length, or trimmed down to suit. Alternatively, for office glass partitions where privacy is also a consideration, a continuous band of frosted window film or a stylish partition graphic will help both with health and safety compliance, but also with security by making the glass opaque and the room more private.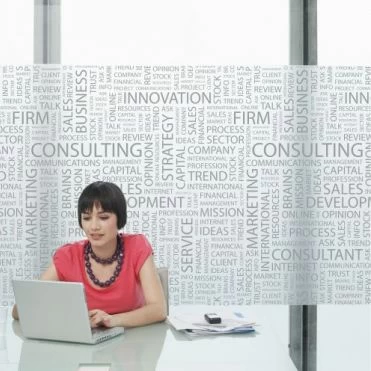 Why Choose Purlfrost Glass Manifestation And Glass Safety Stickers
Purlfrost Glass Manifestation and Glass Safety Stickers provide an easy and cost-effective way to maintain safety and compliance in any setting. They are designed to make your glass surfaces compliant with the regulations set forth by the British government and other governing bodies. These stickers and manifestations can be used in a variety of ways, from corporate branding to promoting health and safety.
Purlfrost Glass Manifestation and Glass Safety Stickers are designed to provide visibility and protection for both employees and visitors. The stickers are an effective way to identify glass as a safety hazard and can be easily applied in any space. The stickers feature a durable adhesive backing, allowing them to stick firmly to any smooth surface. The bright colours and bold designs also make them highly visible, ensuring that everyone is aware of their presence.
In addition to providing visibility and protection, the Purlfrost Glass Manifestation and Glass Safety Stickers are also designed to enhance the aesthetics of any space. With a range of designs available, they can be used to create unique and eye-catching displays. Whether you're looking to promote your brand or transform a dull space into something more vibrant and inviting, these stickers can help you do it.
Overall, Purlfrost Glass Manifestation and Glass Safety Stickers are a great choice for any business or organisation that wants to maintain safety and compliance while adding a touch of style to their space.
Buy online with confidence from Purlfrost
Our website is packed with practical door manifestation and window manifestation products, available for delivery in the United Kingdom from our London office building. Our customer service and experience is second to none and we are the highest rated UK window film company on Truspilot with over 10000 reviews from satisfied customers. We hold plenty of stock of a wide range of window films and tend to ship your items within 24h of your purchase for prompt delivery using either Royal Mail or TNT for shipping throughout the country. Free shipping is available for orders over £100.00.
What is the glass manifestation meaning?

Glass manifestations consist of self adhesive designs like circles or squares, evenly spaced in bands both at low and high level, to help avoid people walking into the glass. The decals should be a minimum of 50mm in height and width and made of a contrasting material that stands out once applied to the glass.

Are glass manifestation stickers easy to apply?

Yes, very easy using the tool provided and soapy water to slide the stickers in position. They can also be removed at a later stage without damaging the glass, making them ideal for rented properties. Our stickers come in packs ideal for small jobs, or in ready made strips ideal for large glazed areas.

At what height should glass safety stickers be applied?

As a legal requirement in public buildings, floor to ceiling glass partitions and doors should have manifestation at two levels, between 850mm and 1000mm, and 1400mm and 1600mm off the finished floor level.
Back to top