Add privacy to your office windows and glass partitions
Easy to apply
By the roll or cut to size
Removable
Durable
Our frosting films are ideally suited for offices, shops, restaurants, business premises and retail outlets as they can be applied directly to your existing windows and doors, for instant privacy, or to hide your valuable equipment and computers from prying eyes for added security. Also widely used on glass partitions for added safety to avoid accidental collision, the film can be applied as a strip in its natural finish, but it can also be printed or cut with your brand or graphics. Window film can be removed at a later stage making it ideal for rented properties.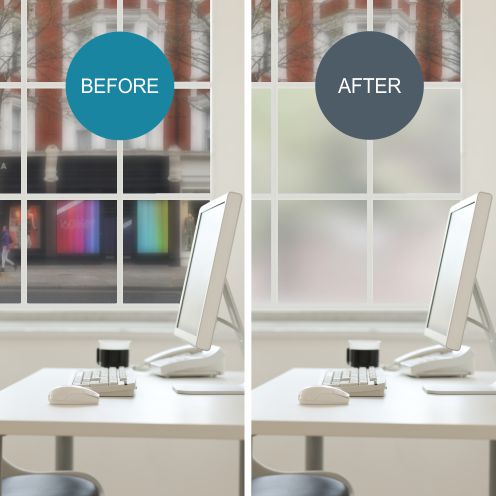 Our films can be ordered by the metre, or to make the installation process easier, we would recommend our cut to size service whereby the film is cut to your exact measurements using a computer lead machine.
Is glass film easy to apply?

Yes it is! To apply the film, all you'll need are a few basic tools, and we even throw in a small application tool with your order for free. Soapy water is the key ingredient, which allows you a bubble-free application. Take a minute to watch our video tutorial. It's really that easy.

We rent our office. Can film be removed at a later stage?

Yes it can, and without damaging the glass which would be a major concern. For short term rentals of a few weeks or months, we would recommend our static frosting film as it is easy to apply and can be removed in a matter of minutes. Self-adhesive frost is more durable and therefore takes longer to remove.
Back to top