If you are looking for bay window ideas that won't break the bank, it is well worth considering window film as an option. Window film is a self adhesive material which is applied directly to the glass with little preparation, and the installation process is very simple, even for a novice.
The beauty of the material is that it comes in different finishes and can serve a multitude of purposes.
Window film is a contemporary window treatment which is available off the roll, or cut to your exact measurements. The application process couldn't be easier using soapy water and a rubber squeegee. It is also durable and waterproof, and is therefore suitable for kitchens and bathrooms.
Bay window ideas for a living room
Frosted window film is the on trend window dressing product for covering your living room bay windows. The material is affordable and easy to apply, and will not affect the amount of daylight coming into the room. It is now widely used on Victorian and Edwardian properties as it looks subtle when viewed from the outside and therefore doesn't jar with the look of your period property.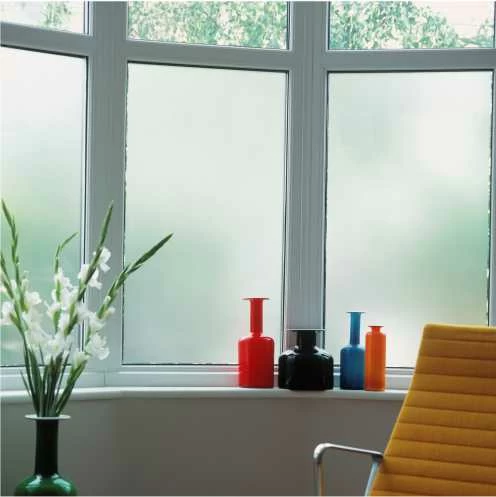 Most of our customers apply the film on the bottom half of the bay window as it offers privacy at the required level and allows you to still enjoy the view out through the top panes. Frosted film is ideal for adding privacy on your bay windows and the effect works both during the day and also at night.
Bay window decorating ideas
The beauty of frosted film is that it can be printed on with sympathetic patterns to your property. We have a wide selection of patterned window film designs to suit contemporary and period properties and once applied it looks like the glass has been etched.
Once you have selected a design, you can also choose a colour for the pattern, or you can have the pattern showing as transparent within a frosted background. the later allows you to tweak the level of privacy required, with the larger patterns allowing a better view out and the smaller patterns more privacy.
For something a bit more colorful, stained glass window film is guarantied to add the wow factor to your bay windows. Our designs have been inspired by actual patterns from the Art Deco, Art Nouveau and Victorian eras. We also have created more modern options, including floral and ethnic patterns from other world cultures.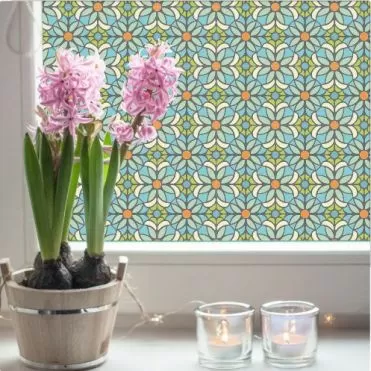 Other bay window privacy options
If your living room or bedroom has blinds or shutters, you might only need privacy at selected times. One way window film has a mirror finish which when daylight reflects off it acts as a privacy window film by compromising the view in the room. The film looks very smart and again it can be applied to the bottom panes of your bay window for the most optimum results.