House Number Stickers
Add Personality With Door Number Stickers
Make a house truly a home, and transform your front door with a custom house sign sticker, adding a sophisticated, personal touch in a matter of minutes. Our adhesive door stickers are affordable, incredibly versatile, and easy to apply to glass, steel, plastic, varnished or painted wood: all you need is a little soapy water and a squeegee (which we provide with every order for free). Our adhesive house sign stickers and glass house signs give you an amazing array of possibilities: not only can you add personality to your front door, but with number transfers you can also add an edge to side windows, fanlight windows, and more.
As the leading online supplier of house name and number stickers in the UK, with nearly two decades of experience and over 8,000 5* reviews on TrustPilot, you can rest assured we'll provide you with adhesive door numbers for glass that comes in a high-quality, durable finish.
Add an elegant touch to your home with a custom front door number or with one of our glass door number signs today. Choose from a selection of house number stickers and front door number decals in a range of patterns, colours, and designs that tastefully reflect the style of your house and decor. You are going to love the results of your glass house number stickers!
Read More
Made to measure house number stickers

Customisable: add your own text or numbers with door stickers

Easy to apply, no bubbles with door stickers

Affordable door number stickers

DIY installation for number transfers takes minutes

Decorative frosted window film designs

Coloured, gold or silver vinyls

Free application tool for glass door numbers
Custom Adhesive House Number and Name Stickers
Make an elegant statement with our window name stickers, custom house number and door stickers, that tastefully show the name or number of your home to visitors in a visually appealing way. Even better, you can design your own house name sticker with us. Made from self-adhesive frosted window film or coloured vinyl, our personalised glass stickers are made to measure, meaning you can design your house number or vinyl numbers for glass according to any size you wish, and any designs are resized to your specification. As the leading online window company in the UK for door stickers, decorative house numbers, adhesive door numbers and letter stickers for glass, we are proud to provide our customers with the highest quality finish, made to last.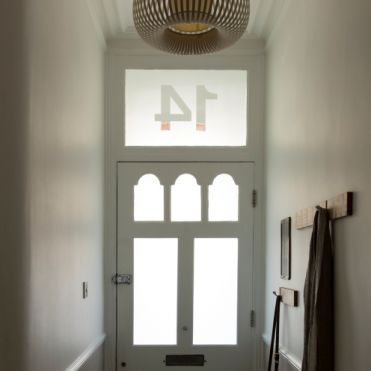 Create Your Own House Number Sticker
Creating your very own personalised adhesive door stickers is easy: simply select the house name sticker design you wish to buy, enter your house number or name, choose your font and colour on and prove your required measurements. And that's it! You'll have a beautiful door sticker design that you can apply in an instant, without the hassle of drilling or potentially ruining brickwork. Creating your own glass house number stickers has never been so simple! A completely Bespoke House Number Design made just for you. Looking for window name stickers? You can create your own door names with us with ease.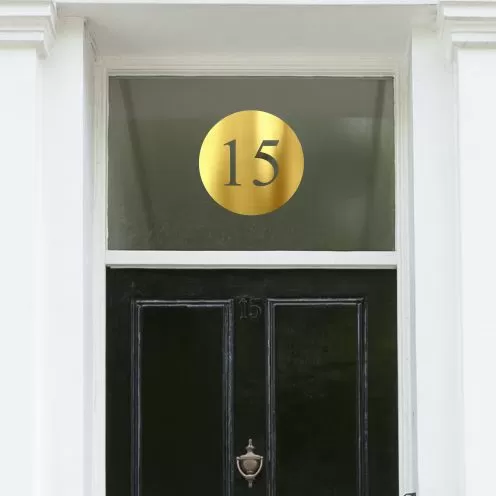 Decorative House Number Sticker Designs
Transform your door and give it a brand new lease of life with our made to measure door number films that come in an array of styles to choose from. As the UK's leading window film and glass coverings specialists, we truly have something for every architectural style or personal taste when it comes to letter stickers for glass. Whether you are looking for contemporary or period house numbers, we can help. All our self adhesive house numbers for glass can all be effortlessly installed.
Select from our frosted front door number decals with a subtle contrasting effect for a sleek, contemporary finish for a glazed front door, or opt for our door stickers designs with a more artistic flair for a frosted house number. If you are looking for large number stickers in the UK, we also have a beautiful selection of large gold number stickers for you to choose from, including our gold house number stickers and gold leaf transom numbers. We have the refined Art Nouveau style house number stickers with a stunning etch effect, as well as other chic patterned door numbers stickers, include our sophisticated black number stickers, black vinyl number stickers and our Art Deco and Victorian style adhesive door signs. If you love the beautiful look of stained glass, you will adore our original heritage glass patterns or our Stained Glass House Numbers, providing the visual impact of stained patterned glass, without the complexity of installation.
If the house number design is on a fanlight, we also have a collection of timeless semi-circular Fanlight Number Designs which can be resized to your exact measurements.
Of course, we also know that sometimes adhesive house numbers for glass may need to have a practical purpose too: we also supply custom made wheelie bin stickers with durable stick-on numbers that come in a range of colours.
How are the adhesive house numbers for glass and text stickers produced?

For door number stickers within a frosted panel, or for intricate designs, we have developed a printing method which allows us to print directly on glass film. This method for adhesive house numbers for glass is very versatile and once the film is printed, it's very easy to apply.
For vinyl number stickers, we use a computer led cutter which accurately cuts the number out of the frosted film. We then have to remove the excess material and add an application tape to the number to help with the installation process for adhesive door numbers. This method is a bit more time consuming as you have to wait until the film has cured to the glass before removing the tape.

How easy are house number stickers to apply?

Our adhesive door numbers for glass are easy to apply using the tool provided with your order, and the set of instructions we have created. The process of adding vinyl numbers for glass to your door only takes a matter of minutes using soapy water. That is why letter and number stickers for glass has become increasingly popular in recent years.

Are door number stickers durable?

Once applied to glass, our door number stickers will last for many years. These glass door number signs would only require replacing if the glass was broken or the sticker damaged due to excessive contact on a front door for example. Our vinyl numbers for glass and self-adhesive house numbers for glass are made from the highest quality materials. You can rest assured when you purchase large self adhesive numbers or glass house number signs with us, they have been created to last.

Are the door number stickers applied internally or externally?

We always produce the door numbers for internal application as the results look better externally, and the letter stickers for glass film is better protected from the elements. However, in some cases, like if your glass is already frosted, for instance, you could apply the adhesive door numbers for glass externally. For more information on what to do with your glass door signs, simply contact Purlfrost.
Back to top