Personalised Door Number Stickers
Made to measure to your exact specifications
For a front door, window, fanlight or transom
Add your own text or lettering
Easy to apply even for a novice
Etched effect finish
Coloured, gold or silver self adhesive vinyl
Free felt edged application tool
Our self adhesive house number stickers for glass are guarantied to make your house stand out, giving it instant style and kerb appeal, and making it more noticeable to visitors or delivery men. You can create your door number sticker to be as large as you want so that it can be clearly seen from a distance, especially if your house is far away from the pavement for example.
Unlike a house number plaque or sign, there is no need to drill any holes in your brickwork. To apply a door number sticker, all you will need is soapy water to avoid bubbles, and the felt edged squeegee supplied free with your order. The installation process only takes a matter of a few minutes, and is a very easy task even for a novice.
Made to measure
Our online design tools will enable you to create unique personalised house number stickers individual to your home, by simply entering the size of your glazing and your own text in a font and colour of your choice. Our website developers have created an online design facility to help you create your very own bespoke stick on house numbers, with modern and heritage design options to suit all types of properties, including Victorian houses. Depending on the design you select, you can either cover the whole pane of glass of your front door with a frosted house number sticker, or apply a coloured house number decal in the middle of a transom for example.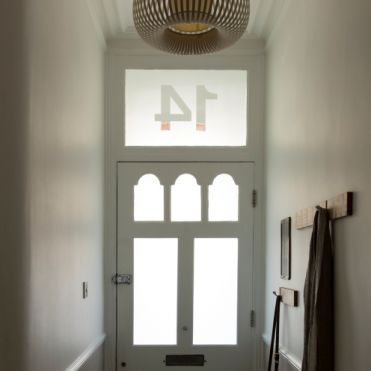 Contemporary and period designs
Over the years, we have created a collection of decorative house number designs to suit any style of contemporary or period property. Using hundreds of original heritage glass patterns from various eras, we converted them in a digital format so that they can be resized to your own specification, with your own text. You will find a collection of Art Nouveau, Art Deco and Victorian era designs which consist of an etch effect background for added privacy, and the text and pattern in a colour of your choosing, or transparent giving it the look of etched glass. For something a bit more colourful, please visit our stained glass house numbers collection, again with options to suit your property's style or date of construction.
If you are planning to apply your self-adhesive house number on a fanlight, we have a collection of stylish and timeless semi circular fanlight number designs which can be resized to your exact measurements.
A timeless look
Gold leaf house numbers and lettering were all the rage back in Georgian and Victorian times. For a similar effect, at a fraction of the price of real gold leaf, you can have your house number sticker cut out of gold vinyl. And you don't need an expert to apply your sticker, it very much is a DIY task suitable for anyone.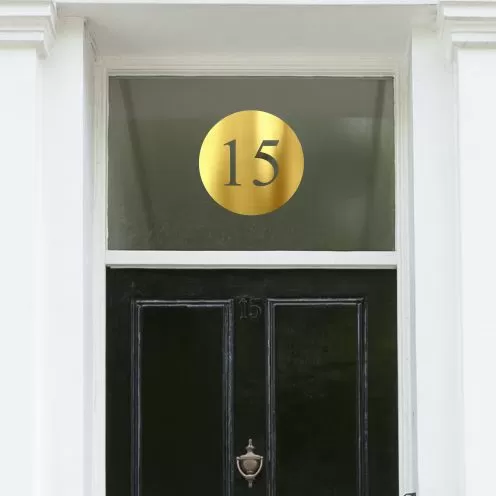 Creating your sticker
To order your door number or name sticker, all you need is to entre the width and the height of the glass in your front door, transom or fanlight. You can order either a number or a name, or a combination of the two. For number stickers within a frosted panel, or for intricate Victorian or contemporary patterns, we have developed a printing method which allows us to print directly on window film, creating a large, easy to apply sticker. This method is very versatile and once the film is applied the effect is immediate. For vinyl cut number stickers, we use a computer led cutter which accurately cuts the number or lettering out of the frosted film or coloured vinyl.
Small, medium, large or extra large
Window film is a very versatile material and thanks to our design tool you can create number stickers of any size. Large and extra large house numbers look very contemporary, and we even have a tool which will enable you to create vertical house numbers to cover a whole pane.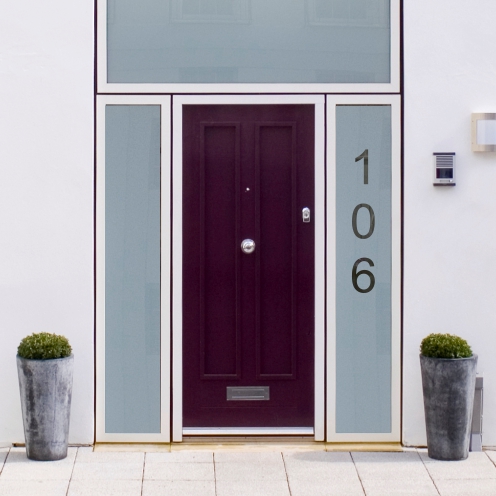 Will stick to other surfaces
Though mainly designed for application on glass, you can also create coloured vinyl number stickers to go on other smooth non pourous surfaces like metal, plastic, painted or varnished wood. The thin plastic house number stickers are self adhesive and can be applied either externally or internally. We have many colours available including stained glass effect film, gold and silver.
Humble yet practical
We also supply custom made wheelie bin stickers with durable stick-on numbers that come in a range of colours, and can be as small or big as required. As well as your house number, you can also add your home address so that your bins don't get mixed up with the neighbour's.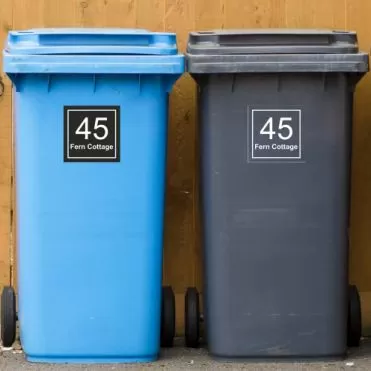 Buy online with confidence from Purlfrost
Our brand is the highest rated door number stickers company on Truspilot with over 10000 reviews from satisfied customers. We hold plenty of stock of a wide range of window films and tend to ship your items within 24h of your purchase, using either Royal Mail or TNT for shipping throughout the country. Free shipping is available for orders over £100.00.
Are house name stickers durable?

Our vinyl door numbers and self adhesive house numbers for glass are made from the highest quality materials. As a rule, door number stickers are applied on glass internally and are therefore protected from the elements. Your personalised house numbers stickers will therefore last for many years.

How easy are house number stickers to apply?

Our adhesive house numbers for glass are easy to apply even for a novice. The process takes a matter of minutes using the free felt edged tool provided with your order, and the set of instructions we have created. When applying the stickers to any other smooth surface, the technique is the same.

Are door number stickers applied internally or externally?

We always produce the house numbers for internal application as the results look better externally when seen through the glass, and the letter stickers are better protected from the elements. However, in some cases, like if your glass is already frosted or when applying the stickers on an opaque surface for instance, you could apply the adhesive signs externally.
Back to top