Make an Entrance With Purlfrost House Number Stickers
Made to measure
Add your own text
Frosted window film designs
Coloured vinyls
Gold and silver finishes
Free application tool
Easy to apply with no bubbles
Our custom house number and door stickers are a modern idea and very easy to apply. They are guarantied to make your house stand out, giving it instant kerb appeal, and making it more noticeable to visitors or deliverymen. Ideal for a transom or fanlight above a door, or a glass panel within a front door, our house number stickers are made to your exact measurements using frosted window film, coloured vinyl film or stained glass effect film.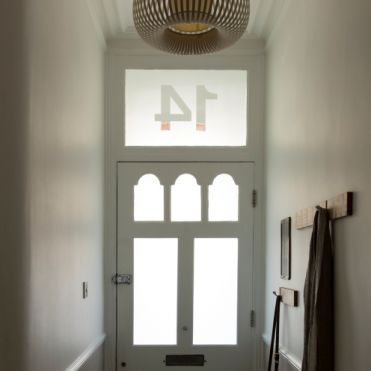 The online design facility will allow you to design your own door number sticker or name using your own text in font of your choice. The end product is easy to install yourself in minutes, and will last for years. Unlike a plaque or a sign, no need to drill any holes in your brickwork. Soapy water and a squeegee is all you will need. Our stickers can be made to size for any shaped glass pane, including glazed front doors.
Our most popular products can be found in our custom house number range of designs. Our website developers have created a very easy to use online design facility which will allow you to create your very own bespoke design, with modern and heritage options to suit all types of properties. Depending on the design you select, you can either cover the whole pane of glass with a frosted house number, or have a gold house number sticker in the middle of a transom for example. You can also create stickers to go on other surfaces as our vinyl stickers will also adhere to any non porous surface like metal, plastic, painted or varnished wood.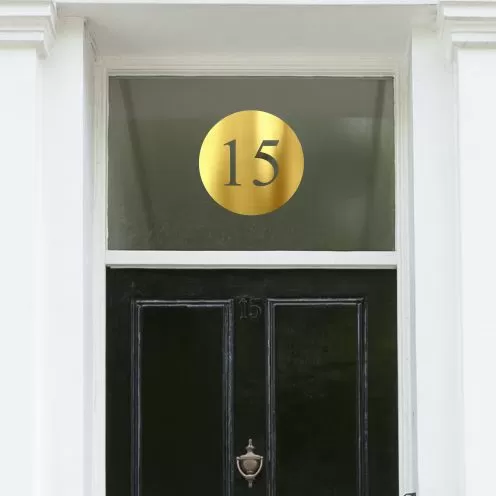 We have created a collection of house number designs to suit any style of period property. Over the years, we have sourced hundreds of original heritage glass patterns from various eras, and converted them in to a digital format so that they can be resized to your own specification, with your own text, choice of font and colour. We currently have a collection of Art Nouveau era house number designs with an etch effect background, and the text and pattern in a colour of your choosing, or transparent. Similarly we also have designs from the Art Deco and Victorian eras.
For something a bit more colourful, please visit our stained glass house numbers collection, again with options to suit your property's style or date of construction.
If you are planning to apply your house number sticker on a fanlight, we have a collection of stylish and timeless semi circular fanlight number designs which can be resized to your exact measurements.
How to order a house number or name sticker

Ordering your sticker is very simple.

Choose a design

Enter the glass or sticker measurements

Enter your text

Choose a font

Choose a material

When ordering, feel free to add any special requirements in the dedicated entry box. For example, if you are ordering a house number sticker in frosted window film to cover a whole door, you can stipulate exactly how far up the number or name should be. You can also ask us to send you a visual for approval before we produce your house number,

I'd like to have a house name instead of a house number.

That's not a problem, as long as the design you select has enough space to accommodate a name. Most will do, apart from the stained glass and patterned house number designs where there is a limited area for the text. Just enter your text in the relevant box, choose a font and a size, you'll then see a graphic representation of your design.

Are house number stickers applied internally or externally?

We always produce the etch effect stickers for internal application as the results look better externally, and the film is better protected from the elements. However, in some cases, like if your glass is already frosted, for instance, you could apply the film or sticker externally.

How are the number and text stickers produced?

For numbers within a frosted panel, or for intricate designs, we have developed a printing method which allows us to print directly on glass film. This method is very versatile and once the film is printed, it's very easy to apply.
For vinyl number stickers, we use a computer led cutter which accurately cuts the number out of the frosted film. We then have to remove the excess material and add an application tape to the number to help with the installation process. This method is a bit more time consuming as you have to wait until the film has cured to the glass before removing the tape.

Can house number stickers be used on other materials apart from glass?

Yes, they can be applied on any smooth, non-porous, dry and dust free surface:

Glass and mirrors
Plastics and laminates
Metals
Painted & varnished wood

How easy are house number stickers to apply?

Very easy using the tool provided with your order, and the set of instructions we have created. The process takes a matter of minutes.

How long will they last?

Once applied to glass, our vinyl stickers will last for many years. They would only require replacing if the glass was broken or the sticker damaged due to excessive contact on a front door for example.

Are they easy to clean?

You can clean your window stickers easily with soapy water and a soft cloth. Avoid abrasive products.
Back to top