Make an entrance with Purlfrost
Your front door is often the first thing your guests will encounter when visiting your property, and special care should be taken to make it look as attractive and inviting as possible. A sympathetic colour scheme and a good paint finish is essential, as well as matching door furniture. When it comes to the all important glazing, we have a wide range of stylish and economical glass front door films to suit contemporary or traditional schemes. Our self adhesive door window coverings are perfect for a front door with glass panels, and are available to purchase online off the roll by the metre, or made to measure to fit your glass exactly.
Glass front door privacy
For simple privacy with little loss of natural light, frosted window film is ideal to obscure the view into your home. The film is applied to smooth glass in minutes using soapy water and a squeegee, and will last for many years. The effect is immediate and the finish very similar to actual etched glass, at a fraction of the cost, giving you privacy day and night, and keeping your valuables out of sight.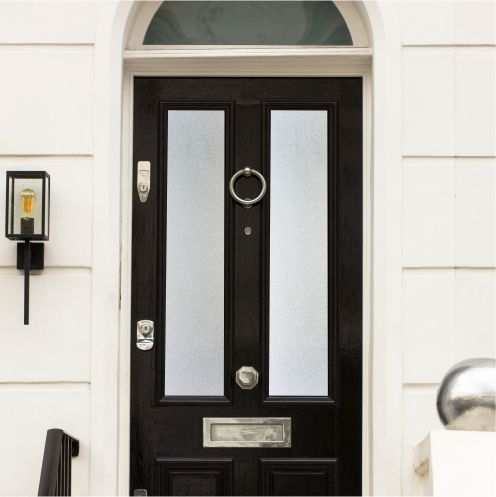 Other privacy window film options include mirror effect film which adds privacy by reflecting the view out, and therefore keeping prying eyes at bay during the daytime.
Period designs for your front door glass
We also supply a wide range of patterned window films including etch effect patterns and stained glass window film designs from the Gothic, Victorian, Art Nouveau and Art Deco eras. This collection is second to none and the designs have been inspired by actual period patterns to give your front door an authentic look, without the cost of sourcing actual glass for a Victorian front door, or stained glass designs for an Art Deco property. Each pattern can be resized to fit exactly your front door glass panels, and the effect is very similar etched glass.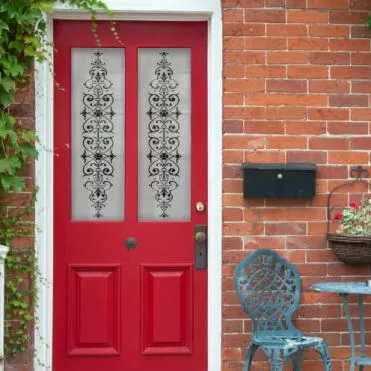 Back to top