Glass Front Doors Film
Glass front doors are very attractive and replacing the glass can be costly and lead to damage to the door. Window film is the perfect alternative as it can be applied directly to the existing glass to add privacy, for solar control, for security or for decorative purposes.
Our glass door films are easy to apply even for a novice and can be ordered by the metre off the roll, or cut to your exact measurements. They are suitable for a transom, fanlight, sidelights, partially and fully glazed doors.
We have a wide range of products for your glass front door including contemporary and period designs to match your decor and the house style and era. Our films are suitable for any glazed door, including internal, bathroom, patio or sliding doors, or cottage front doors with glass.
Make an entrance with Purlfrost
Your front door is often the first thing your guests will encounter when visiting your property, and special care should be taken to make it look as attractive and inviting as possible. A sympathetic colour scheme and a good paint finish is essential, as well as matching door furniture. When it comes to the all important glazing, we have a wide range of stylish and economical glass front door films to suit contemporary or traditional schemes. Our self adhesive door window coverings are perfect for a front door with glass panels, and are available to purchase online off the roll by the metre, or made to measure to fit your glass exactly.
Glass front door privacy
For simple privacy with little loss of natural light, frosted window film is ideal to obscure the view into your home. The film is applied to smooth glass in minutes using soapy water and a squeegee, and will last for many years. The effect is immediate and the finish very similar to actual etched glass, at a fraction of the cost, giving you privacy day and night, and keeping your valuables out of sight.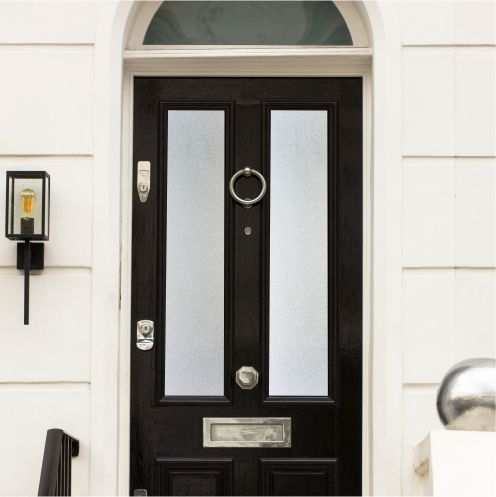 Other privacy window film options include mirror effect film which adds privacy by reflecting the view out, and therefore keeping prying eyes at bay during the daytime.
Period designs for your front door glass
We also supply a wide range of patterned window films including etch effect patterns and stained glass window film designs from the Gothic, Victorian, Art Nouveau and Art Deco eras. This collection is second to none and the designs have been inspired by actual period patterns to give your front door an authentic look, without the cost of sourcing actual glass for a Victorian front door, or stained glass designs for an Art Deco property. Each pattern can be resized to fit exactly your front door glass panels, and the effect is very similar etched glass.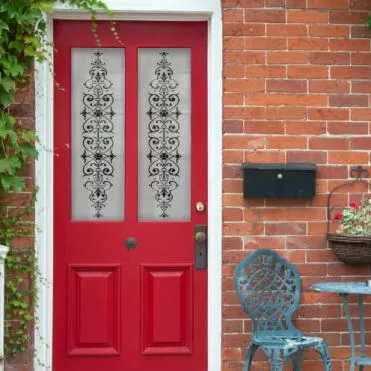 Stained glass front door patterns
Our stained glass collection includes designs to fit the glass panels on your front door, as well as your windows, and the glass above the door. You can even add your house number to make your house standout. When placing your order for a Victorian stained glass front door for example, we will sympathetically resize the pattern to fit your glazing sizes, whilst keeping the integrity of the design as best as possible.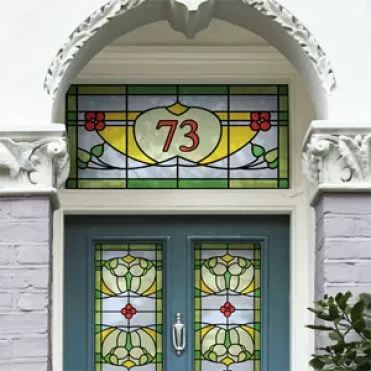 House number sticker for above your front door
As well as window film, you can add the finishing touch by adding a house number sticker to your front door, or on the transom or fanlight above. Our online design facility will enable you to select a frosted or stained glass pattern, add your own house number or house name, and select a colour for the text. We then produce your order in house and sent it to you in the post in a matter of a couple of days.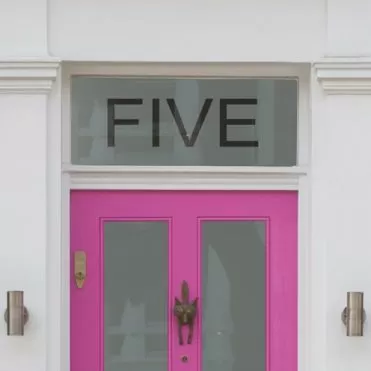 Safety film for glass doors
If your front door, sliding door or patio door is of a certain age, chances are the glass is not up to current safety standards. Instead of opting for glass replacement, you can upgrade the glass with a self adhesive safety window film, which will strengthen the glass and prevent it from shattering when broken.
We also supply glass safety stickers and manifestation to highlight large glazed are like a sliding glass door or patio doors. The stickers are very easy to apply and will make the glass more noticeable to avoid accidental contact.
Buy glass door film online with confidence from Purlfrost
Our website is packed with practical film to cover your glass front doors, as well as decorative house number stickers, available for delivery in the UK. Our customer service and experience is second to none and we are the highest rated window film company on Truspilot with over 10000 reviews from satisfied customers. We hold plenty of stock of a wide range of window films and tend to ship your items within 24h of your purchase for prompt delivery for shipping throughout the country. Free shipping is available for orders over £100.00.
Back to top