Made to measure
Copied from original Victorian glass designs
Self adhesive and long lasting
Free application tool
Easy to apply with no bubbles
Whether you are looking to enhance your privacy, to add the finishing touch to a house renovation, or just a a decorative accent to your home, our Victorian windows film is very stylish and a cost effective and economical alternative to patterned glass. The narrow designs are perfect for a front door with two glass panes, and the larger ones can be used either on a front door, a front bay window, or a window on a landing for example. Similar to frosted glass film, the material is translucent and therefore there will be little loss of natural light once applied.
A bespoke service
Our Victorian era etched glass window film designs have been made into a digital format using original frosted glass patterns from the 19th Century. The designs are then resized to your glass measurements, and printed directly on a self adhesive etch glass film in a colour of your choice. There's also a transparent option whereby we print the etch effect on a clear film leaving the pattern as a clear area within the film.
Suitable for a bathroom
Window film is suitable for a bathroom or kitchen and resistant to condensation, but avoid direct contact with water. For extra privacy, order the pattern printed in colour on frost rather than in clear in a frosted background.
Add a house number sticker
To complete the look, we also supply made to measure house number stickers to fit above your front door, on a transom or fanlight. The principle is the same and you can also choose the number to be in colour or transparent to match.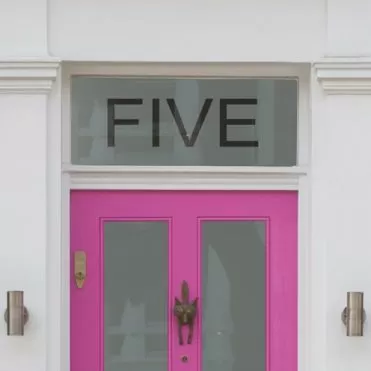 Applying your front door window film
To apply your Victorian window film, all you'll need are a few basic tools, and we even throw in a small felt edged squeegee with your order free of charge. Soapy water is the key ingredient, which ensures a bubble free application.
Take a minute to watch our video tutorial. It's really that easy.
Hugs n kisses just left a new 5-star review of Purlfrost Window Film:

My Victorian frosted door design arrived promptly and well packaged. The size was exactly what I had ordered. The door was completely transformed in the space of 2 minutes. I am absolutely delighted with this purchase and will be definitely ordering more in the future.
Back to top