Frost your windows with a decorative window film
Apply directly to your existing glass
Available by the metre or cut to size
Free application tool
Easy to apply with no bubbles
Decorative window film is the perfect alternative to net curtains for 24h privacy, or decorative purposes. It will work on any smooth glass surface and can be used anywhere in the home, including bathrooms, toilets and shower rooms. The film is durable and when correctly applied will last for many years. Decorative frosted window film is a DIY product and as such is easy to apply using a soapy water solution, and the application tool provided with every order. It's also easy to cut thanks to the metric grid printed on the backing paper, and is also available cut to size for ease of installation. Our Blossom design is the most popular with home owners and has a pretty floral pattern.
Decorative Frosted Film FAQs
Here are a few of the questions we are often asked about decoartive glass film.
What is decorative window film?
It's a thin self-adhesive material on which a decorative patterned has been embossed or printed. The pattern is then repeated along the length of the roll of film. Once applied, the film makes the glass opaque, making it ideal for 24-hour privacy, or to obscure an unsightly view.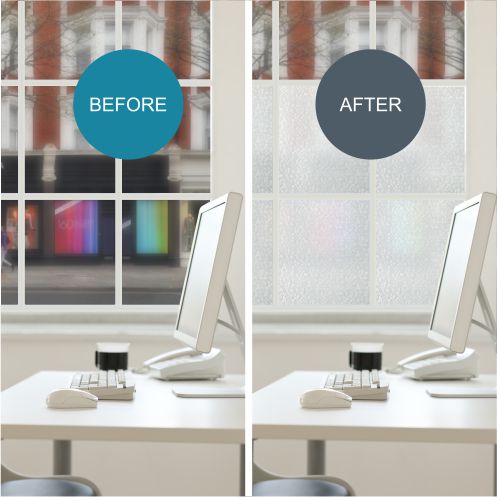 Is the film easy to cut?
Our products have a metric grid printed on the backing paper to make it easier to mark and cut with a pair of scissors. Measuring and cutting doesn't have to be very accurate as you can trim the film once applied to the glass using a retractable knife. however, for ease of installation, our films can be ordered cut to your exact measurements.
Is decorative window film suitable for bathrooms?
The film is suitable for bathrooms and kitchens and resistant to condensation, but avoid direct contact with water.
How easy is the film to apply?
Very easy, and very quick. All you'll need are a few basic tools, mainly a trigger spray bottle and a retractable knife, and we even throw in a small application tool with your order for free. Soapy water is the key ingredient, which allows you a bubble free application. Take a minute to watch our video tutorial. It's really that easy. There's also a great tip on how to create a clear border around the film...using a CD case!
Can you remove decorative film at a later stage?
Yes, you can remove window film at a later stage. Please take a look at our window film removal video tutorial.
Back to top