Get The Whole Family Involved
"Decorating for Halloween is a full (Adams…) family affair! It's a great excuse to get the whole family involved – Halloween crafts can be fun for all ages. If you have younger children, doing activities appropriate for small hands can be really fun, creating spooky finger paintings or colouring! For those a little older, pumpkin carving or painting is a great activity and can be on show during the spooky season.
Don't Shy Away From Your Windows
"For a more unique type of Halloween decor, get creative with window stickers to add a spooky addition to the inside and outside of your home. Easy to install and remove, the window film adds an eerie touch. For those out trick or treating, create a windowscape using the stickers to create a scary but inviting silhouette!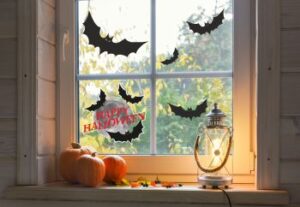 Work With What You Have Got
"The window stickers aren't just for windows. Those wanting to be a little more creative can look for ways to add further decoration throughout the home. From glass jars, mirrors and hanging pictures. A great activity for the whole family; let your imagination run wild and try them out on any smooth, non-porous surface including metal, plastics and laminates, painted and varnished woods, as well as walls."
Be Obvious You Are Involved
"Pumpkins aren't just for decorative use but actually symbolise the welcoming of trick-or-treaters. If you are happy to welcome local door knockers, don't forget to get your pumpkin on the windowsill and stock up on your snacks!"
Be seated at a scary tablescape
"Create a spooky dining experience by extending the decorative touches to a Halloween-themed tablescape. Easy tips for sprucing up your table could include using mini pumpkins and squashes along the table runner – these can then be used post-Halloween in a delicious autumnal soup. Other easy additions include napkins, table runners and cloths. If you are feeling really creative, hop on Pinterest to find a selection of spooky recipes to impress your guests.