Sliding doors and patio doors made from glass can be a great way of partitioning off space whilst still letting natural light in and giving a feeling of space. Imagine how dark and dingy some spaces would be without glass doors there.
However, there is one big downside to glass sliding doors and screen doors: people sometimes walk into them. We've all seen the videos on the internet of people, pets and kids who haven't realised that the space in front of them is actually filled with a glass pane and go running headfirst into it. Whilst some of these videos are funny, the reality can be less so.
People can really get hurt when they walk into glass doors, especially if they bump their head and fall over or they hit a weak point in the glass and it smashes. That can lead to injury and damage that takes time and money to repair, both for the person and the property. Not so funny.
There are some easy steps that you can take to stop people from walking through sliding glass and screen doors, at work or at home.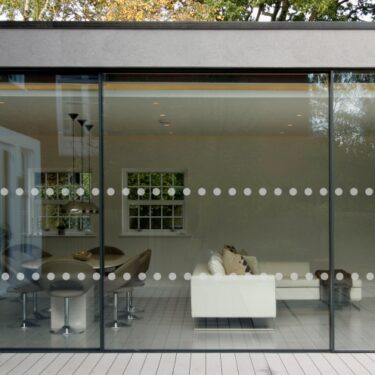 Stop People from Walking through Your Sliding Doors and Screen Doors at Work
Commonly used in hallways, corridors, stairs, office doors and meeting rooms, glass doors are great for sectioning off space without making an office or workspace dark. In areas with a high volume of footfall, or where people are often in a rush, they can become hazardous, especially for people with visual impairments.
In 2018, tech giant Apple made the news as employees repeatedly walked into glass walls in their newly-refurbished headquarters. The office refurbishment cost a reported $5 billion and housed some of the brightest minds in tech, so the news reports were a little embarrassing.
Here's how to stop people from walking into your glass patio doors and causing damage to themselves and the glass:
Add it into any health and safety training – people may roll their eyes at this as they think it's 'common sense' but it happens and people need to be aware of it.
Use safety and security window film stickers – glass safety stickers (also know as glass manifestations) highlight glass areas to reduce the risk of accidentally colliding. They come in a range of designs from corporate to customised and the ones we provide meet building regulations. They're usually circles, squares or bands of a design that mark out where the glass is.
Use warning signage – this can help people to realise that there's something ahead that they need to be conscious of, but can look messy especially if it's just written on paper.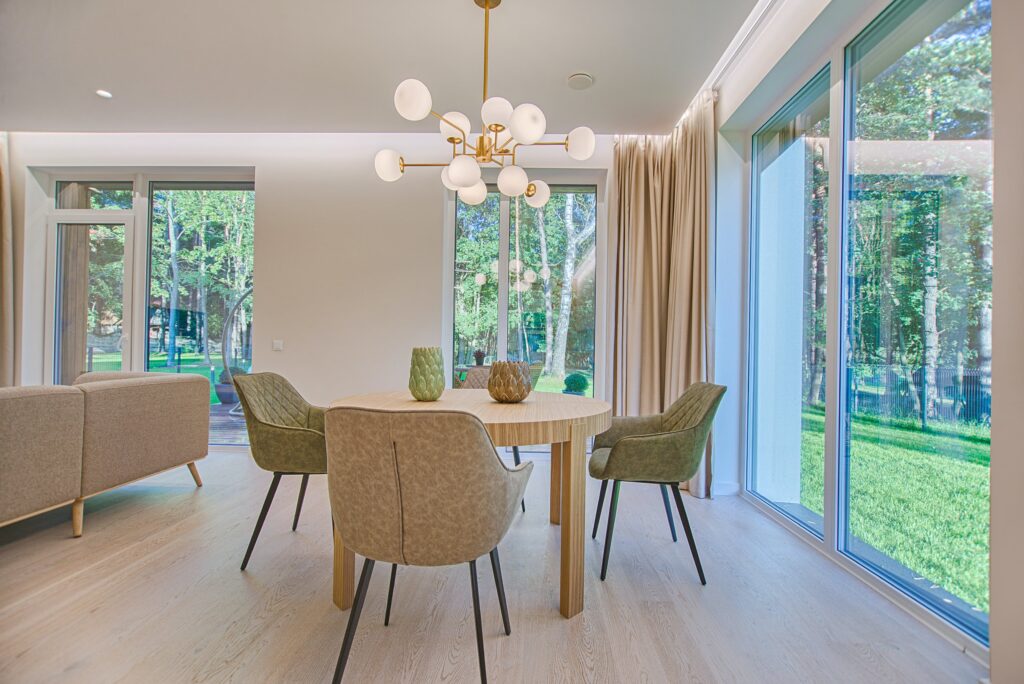 Stop People from Walking through Your Sliding Doors and Screen Doors at Home
Everyone wants their home to look more light, bright and airy. It gives the impression of more space and just makes everyone feel better if their living environment lets natural light in. Using glass and reflective surfaces is one of the most common ways to add light into the home.
Patio doors are often made of glass, as are some internal doors too. All of this lends itself to people walking into sliding glass and screen doors, or even falling through an open space, and causing injury to themselves.
It's thought that windows and glass doors cause about 400 injuries to children under 14 every year, some of which will be serious. That's before we even talk about adults who injure themselves by walking into glass doors.
Here's how to stop people from walking into your glass doors at home:
Stick a note up – this doesn't look especially welcoming or homely, but it probably will do the trick to stop people from walking into your door.
Leave them open – this isn't usually the most practical solution, you have doors there for a reason, and keeping them open can be draughty, noisy and take up space. Patio doors often lead to outside, so leaving them open isn't an option for security reasons.
Use decorative window stickers – decorative window stickers are an attractive and effective way to jazz up your living space, as well as highlighting the glass. You can choose from lots of different designs and change it up as much as you want. Don't forget to put some at a lower level if you have pets as they can get confused too!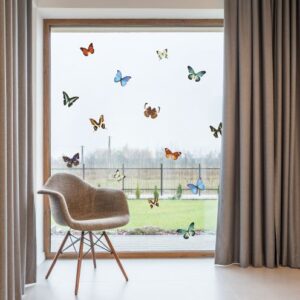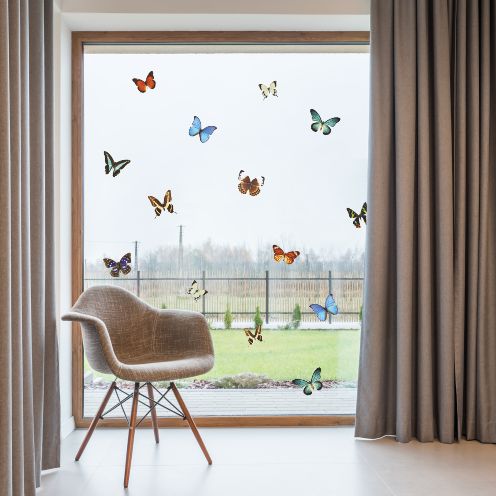 Glass Safety Stickers and Decorative Glass Stickers on Sliding Doors and Patio Doors
Using stickers to highlight glass spaces in the home or workplace can be really effective in preventing collision hazards. There are so many designs on offer – from corporate to cute and festive to formal – that you'll find something that balances out practical with décor or design. You might actually just want to use them, regardless of whether people are walking into your doors or not.
Another thing to think about with glass doors and windows that lead to the outdoors is nature. Sometimes glass panes – especially large panes of glass or really clear ones – can confuse birds, causing them to fly into windows. This can really hurt them (probably more than a person walking into a door), and a sticker can be a great way of helping them to realise that it isn't somewhere to fly into. At Purlfrost we even offer nature-inspired stickers so that you can bring the outdoors indoors.
At Purlfrost, the Manifestation & Glass Safety Stickers that we sell come as a pack of individual stickers or in ready-made continuous rolls of labels if you need more of them. They're really easy to apply in just minutes and are perfect for highlighting glass spaces and avoiding injury in the workplace. We can even offer frosted window film if you want to cover a large area but keep the light, add privacy and announce that there's a glass door ahead.
It's easy to prevent people walking into glass doors and screens with a little forward planning and some easy to use tools like stickers. It doesn't have to look ugly either, you can make a feature out of it whilst still keeping people safe.