After spending so much time at home over the last few years, many of us are looking to update our space. There's a move away from creams, neutrals and minimalism with colour, texture and bold accents all becoming more popular in 2022. This is the year that interior design starts to incorporate more individualism, maximalism and bold designs.
If you're thinking of redecorating or redesigning your home in 2022, let's take a look at the  hottest interior design trends to help you get some inspiration. We've even included tips on how you can recreate each of these trends in your home.
Multifunctional Space
With house prices at an all time high, people may look to downsize, choosing to rely on multifunctional spaces that double up on their uses. This could be a spare room that's also an office or an orangery that doubles up as somewhere to workout. A separate space to work from home is also something many people are looking for at home as hybrid space and work from home continues.
To create a multifunctional feel in your home, look for furniture that folds away or doubles up with a second use. You can also experiment with temporary walls and dividers to give the illusion of a moveable, ever-changing space.
Blending The Indoors and Outdoors Together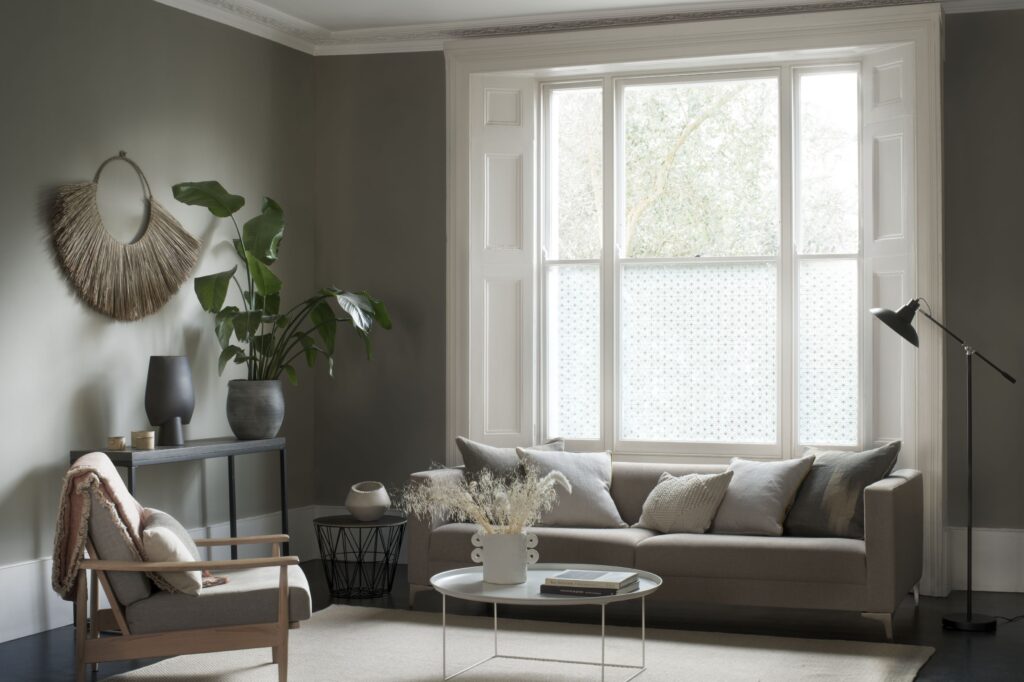 Plants in the home are nothing new, but connecting to nature, bringing the indoors and outdoors together and creating calm, natural environments are going to be big in 2022. This trend also focuses on natural lighting, space and ventilation in the home to create a feel of airy space and the outdoors. The colour palette also reflects colours found in nature like blues and greens. 
Bring a little nature into your home with our range of plant life window stickers to brighten up your space. You can also add real or artificial plants and experiment with new ways to let light and air into your home.
Curves
Softer shapes, smoother angles and curved forms are all becoming more popular for furniture, architecture and interior design in 2022. It's a move towards more natural shapes and a more sculptural feel to furniture in the home. It also focuses more on a sumptuous, sensual feel through textured fabrics, rich colours and bold designs along with a curved style. This trend covers everything from chairs, tables, sofas and even artwork.
When it comes to creating curves at home, think about how you can utilise your existing space to incorporate curved furniture and accessories without wasting precious space at home. Adding curved artwork, wall decals or accessories is an easy way to add curves.
Going Bold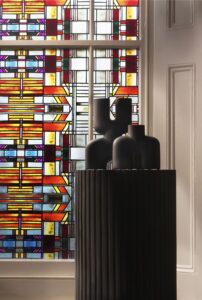 Bold patterns and colours are going to be really popular in 2022 for an interior design theme that's a throwback to the 1960s and 1970s. This is a move away from minimalism, instead focusing on maximalism with bold colours and prints. Bold doesn't have to mean bright or overwhelming either, it can easily be adapted by using more muted colours that still fit with a bolder approach to colour.
Going bold couldn't be easier. Try out bold print or patterned accessories like cushions, ornaments, wall hangings or wall decals. Think about painting walls in anything other than neutrals and getting creative with your colour palette.
Back To The Classics
There's been something of a nod back to the past with classic styles, architecture-inspired looks and a historic feel to furniture. Think heavy, opulent pieces, rooms filled with colour, jade greens and gold accents. Intricate art-deco detailing, 18th century feels, murals and large woven rugs in classic colours are all proving to be popular in 2022.
Ready to really take inspiration from the classics? Try out our range of art-inspired wall decals, available in any shape or size. Pair them with furniture designs that hark back to the past for a classic, rich feel in any home.
Sustainability
Sustainability is becoming more important in all parts of life, and interior design is no different. This includes home accessories and furniture made from renewable materials and sustainable sources. It also focuses on opportunities to recycle, reuse and renew items instead of adding them to landfill. It might be cushions that are filled with sustainable or recycled materials, reupholstered chairs or repainted wooden furniture.
Before you look to throw items in your home away, or look to replace them with something brand new, consider if you can breathe new life into them. Or if someone else might be able to make use of it. Be mindful of where items in your home come from and the materials that they use.
Window Patterns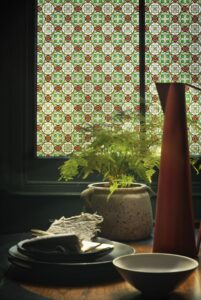 Decorating windows with colour and patterns fits in with the focus on trends that incorporate colour, blending the outside with indoors and natural light. Window treatments are an easy and effective way to make changes to your home without the permanence that's often not allowed in rented spaces.  They can be customised to any shape or size, designed in any colour or pattern and are easy to apply. They're easy to remove if you decide to update your space at a later date too.
Simply select your chosen design (or create your own from scratch), measure your space and order your window pattern. They're easy to apply and come with full instructions – applying them takes just minutes.
Statement Lighting
Lighting moves even away from just the practical and into the realms of style with statement lighting choices. Sculptural pendants, 70s lampshades, stylish carved lamps and decorative lighting that makes a statement all of its own are all growing in popularity as people look to bring a more maximalist approach into their home. This can be anything from overhead lighting, floor lamps and table top lighting.
Look for lighting that adds something a little different to your home. It can fit with your existing interior design but should be able to stand out independently in the style stakes too. Use unusual fabrics, interesting shapes and sculpted lamps that look elegant and unique.