If you're in need of some privacy for your home or business, then a window film could be exactly what you're looking for. Whether you want to stop people from looking into your property, protect the security of your home or keep an unattractive view out of your line of sight, using a window film is an inexpensive and ineffective option.
Here are the top 5 ways to improve your window privacy with a window film.
Privacy with frosted films
Frosted window film is a film that doesn't obscure light from your room but blocks out unwanted views (either into or out of) your property. You'll most commonly see this used in bathrooms and on the ground floor, especially in areas that have a high footfall. It works just as well during the day or the night and helps with security for your home or office.
This type of window film is easy to install, fits with any decor scheme and works in a range of different settings. Frosted film is also considerably cheaper than paying to fit frosted glass, and gives the same effect. It's simple, but effective – which is sometimes exactly what you need.

Privacy with stained glass film
Stained glass film is ideal if you're in a period property but don't want the cost that comes with replacing stained glass windows. These often need specialist craftsmanship and can be seriously expensive to replace. They can also be far less efficient for keeping in the heat than a standard double-glazed window, so a stained glass film can help you cover up a more efficient window so that it fits with the rest of the property.
When it comes to privacy, a stained glass window can also help to obscure the view into your property, making it better for privacy. The colour of the film, design and the ability to recreate any stained glass pattern make it the perfect choice for privacy.
Privacy with mirror films
Just like a one-way mirror, mirror film lets you add privacy to your property without making it obvious that there's anything going on behind the glass. To the person outside, it just looks like a mirror that they can see themselves in. However, if you're inside the room and looking out, you can see what's going on outside easily. This makes it great for privacy in an office or business environment.
It's also really easy to apply mirror film so that it's pretty undetectable. This means you can keep the outside world away from what you're trying to keep under wraps.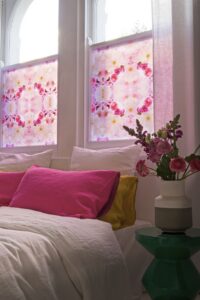 Privacy with patterned films
Patterned window films are great for obscuring views into your property while also adding to your decor. Whatever the style of your home or office you can find the perfect fit for your space. You can even create your own design, so if you're in a business or you have a pattern in mind that you really want in your home then there's nothing stopping you.
This type of window film is really easy to fit and put up – no trying to line patterns up or fit individual pieces, just a patterned window film that's cut to shape and comes with straightforward, easy-to-follow instructions.
Privacy with blackout film
If you really do value your privacy and want to completely stop anyone from seeing through your windows then a blackout window film could be exactly what you're looking for. Bear in mind that with blackout film, you'll be shutting the light out too so this works best for storage spaces or rooms that need to be dark. Blackout films also come in white too so you don't need to worry about making the space outside look dark.
They're totally self-adhesive and cut daylight by 100%. You can also get coloured window films to improve your privacy while still fitting with the rest of your space.
Other ways to use window films
Despite the name, you can use privacy window films on doors, glass partitions, skylights and mirrored spaces. Anywhere where you can have a space that has glass or mirror on it. The static cling system that our window films use will adhere quickly and easily but still stay in place until you're ready to remove them just as easily.
It's great for keeping meeting rooms private, stopping people from seeing through glass spaces in doors and for keeping people from seeing who's in a property. This is essential for security, safety and privacy without the costs associated with tinted glass.
Another way you can use window films is using them to shield part of your window rather than the full thing. For example, if your property is on a street with lots of people passing by then you might want to use window film just to block out the bottom part of your window. That way you can still see the outside world, but people passing your window can't see in. This can be great if you have pets that react to people passing by too.
Privacy tips for home and office
As well as window films, you can keep your space more private, whether that's at home or work with a few easy tips:
Install fencing, add privacy screens to your property or make sure walls are properly maintained 

Landscape around the line of your property or in front of your home

Install security cameras as a deterrent

As well as window films, blinds, curtains and shutters can help

Rearrange your indoor space

Think about anything outside your windows that could make it easier for unwanted visitors to see into the property

Make sure windows and doors are locked, whether you're in the building or not
Using window films for privacy
There's no doubt that window films can increase the privacy of your home or business. There's something to suit every need and every decor style, whatever your budget. Window films are easy to fit, remove and don't damage your space so are perfect if you're renting your space but still want privacy too.