Mirror window film is a great alternative to traditional window films which usually come in plain colours and finishes. Mirror window film is still neutral and can enhance your space without compromising on privacy. It's also flexible and can be completely customised in terms of size or shape. Plus it doesn't smudge, smear or become difficult to clean like glass mirrors can.
Let's find out more about how to use this innovative, versatile window film at home or in your business.
What Is Mirror Window Film?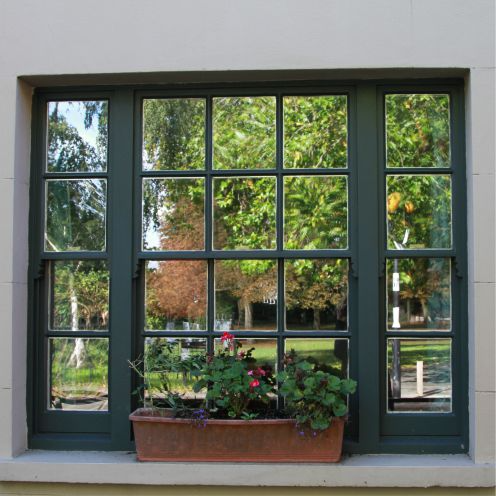 Mirror window film is a clear window film which once applied to glass gives your windows and doors a reflective silver finish externally, and a tinted appearance internally. It reduces solar heat glare, helps to regulate temperature and can keep the things you'd rather keep hidden out of sight.
Thanks to the reflective mirror-like finish, it provides daytime privacy allowing you to still see out, whilst passers-by can't see in. It can also help to make a space look bigger internally if it's used to divide a space (such as hide a storage area or a staff room from customers).
You can purchase our mirror window films by the metre, or cut to size to measure for your home or place of work. Silver reflective window film is very easy to apply using soapy water and the free installation tool provided with your order. It's also far more budget-friendly than glass or partition installations and looks really attractive.
How To Use Mirror Window Film at Home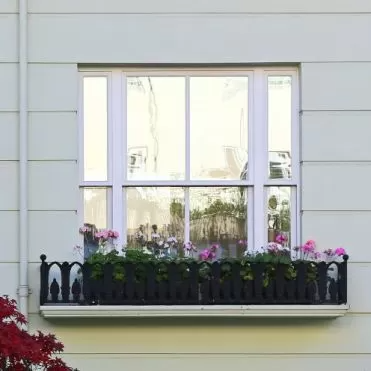 Mirror film can be extremely versatile in the home, especially if you want to up your privacy without spending too much money, compromising on your decor, blocking our natural light or undertaking expensive building and installation work.
You can use mirror window film to stop people from seeing into your home without blocking the light or impacting on the look of your property from the outside. This can be really important for security, safety and privacy while you're at home. It's great for rooms like bathrooms, shower rooms and toilet areas where privacy is even more important.
Because it reflects the outside environment around your home, it doesn't look out of place or obvious from the outside either, blending in with your home. Kerb appeal is an important part of home ownership, or selling a home in the future so keeping your house looking great on the outside is important too.
Another creative way to use mirror film in your home is to create the look of a trendy window mirror at home without the cost, glass or safety issues that come with using real mirrors. This is an amazing interior design idea that incorporates using mirror window film to create a beautiful look without the cost. We have a static cling mirror window film option for temporary use. This non-adhesive reflective window film is easy to apply in a matter of minutes, can be peeled off in seconds, and even re-used if stored properly.
Reflective mirror film is great for outdoor spaces too. If you want to conceal unsightly tools or hide expensive equipment from thieves then mirror film works well as it blocks it from view but reflects the rest of the face. This can make the space feel bigger and lighter.
How To Use Mirror Window Film at Work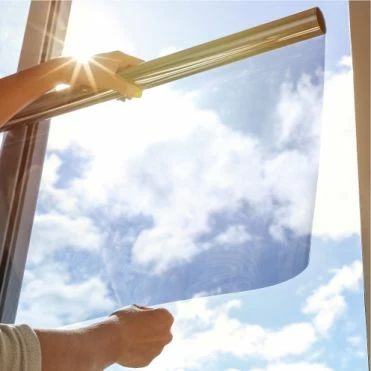 Mirror film is essential in the workplace. If you want to hide stock, staff areas, manufacturing floors or give your customers privacy then mirror film works perfectly. It can also help with security and protecting your important business assets from sight.
Almost half of all thefts are thought to be opportunistic. By taking away the opportunity and hiding tools, stock and belongings out of sight you can help to reduce these types of threats in the workplace. As the mirror film is reflective, people can't see in but you can see them – another win when it comes to security and loss prevention.
Mirror window film also makes sense from a cost perspective in a business. It's significantly cheaper than glass, screens or building partitions but gives you the same benefit. Plus it's flexible and can be cut to any size so awkward spaces, shapes or windows become a much easier (and cheaper) task. If a commercial property has had previous other uses then unusual window or office spaces are more likely.
It's also useful for areas such as reception where it makes sense to be able to see out, but you don't necessarily want to be visible all of the time. This can help with time management, dealing with an unwanted visitor or preventing security of safety threats. The mirrored surface means that they may not realise that there are other people there.
If your workplace has poor lighting or smaller spaces, then using mirror window film is the ideal way to create more privacy without impacting on light or space. It can actually give the illusion of light and space where it's needed.
How To Install Window Film
Purlfrost's mirror window film comes in 3 grades, a dark mirror window film for extra heat rejection, a medium mirror window film for better visible light level, and a light mirror window film which is better suited to UV and glare control than privacy. 
Our window films are all designed to be installed easily, whether you're in a home or an office environment. We provide clear instructions and an application tool with every window film that we send. This makes it easy to apply the film wherever you need it.
You can find the full instructions for how to apply a window film on our website. This is for all types of film, including mirror film. To find out how easy it is to remove, visit the window film removal instruction page. If you need further assistance, guidance or tips on how to install or remove window film get in touch. We'll be more than happy to help you out with any questions you may have.