Why choose Purlfrost stained glass window film?
Stained glass window film is an affordable and easy to apply alternative to real stained glass, allowing you to transform your windows in minutes. If you're looking for extra privacy, then our stained glass window film products can also be printed on frosted window film to create an added level of security to your home.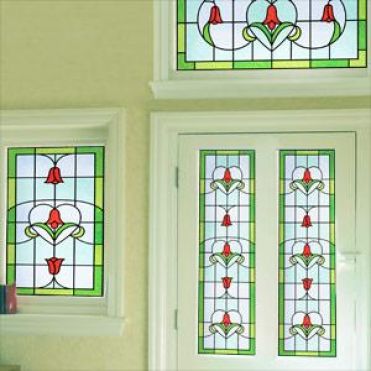 How do we make our stained glass window film?
Starting with a database of original period stained glass images, we have created a digital version of the designs so that they can easily be resized to suit any window sizes. We have also developed a method of incorporating high-resolution images of coloured glass, for a more realistic finish and added vibrancy.
What happens if my windows look different to how your designs are shown on the images?
At Purlfrost, we make sure all designs are resized to your specifications and the measurements you provided. However, if your windows are not of standard shape, arched or circular for example, the resizing process would be more time consuming and there would be an extra charge involved. Feel free to send us images of your windows as well as an indication of the design you require and we'll get back to you with an indication of cost. Please get in touch via the contact form.
I am interested in reproducing a period design. Can you help?
Yes, we can! Just send us a photograph of your existing glass panel with the required sizes, and any relevant information, and we'll get back to you with a quote. Please note that, though every attempt will be made to match the pattern of your existing glass design as best as possible, the finished product and the way the light interacts with it will be quite different to your existing glass.
How easy is the stained glass window film to apply?
Applying our stained glass window film couldn't be easier, and in most cases, the whole process can be completed in a matter of minutes, with bubbles a thing of the past. All you need is the small application tool provided free with your order, soapy water in a spray bottle, and the instructions of course. We also supply an installation starter kit. Watch our video tutorial to see how easy it is.
At Purlfrost, we pride ourselves on supplying high-quality window film products. This is reflected in the reviews we have received on Trustpilot. For more information, please get in touch via the contact form.
Back to top