Why Purlfrost Stained Glass Window Film?
Our stained glass designs are printed on frosted window film for added privacy, or a translucent film for added vibrancy, using a UV resistant digital ink for durability.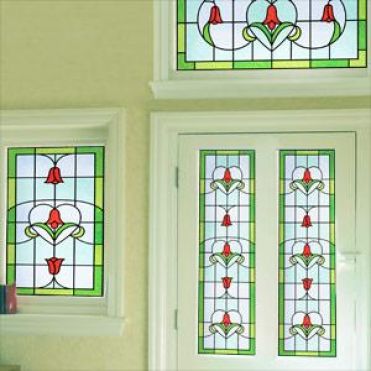 How are your stained glass window films made?
We have developed a unique method allowing us to print stained glass effects on transparent or translucent window film. So all the designs you see are in fact high-resolution images printed on film.
My windows look different to how your designs are shown on the images?
At Purlfrost, we offer a completely bespoke service and all the designs are resized to your exact measurements, regardless of the shape of your window or door. However, if your window is arched, we wouldn't be able to resize the designs to suit. We would suggest using a patterned or frosted film instead and trimming the excess material.
I want to reproduce a period design. Can you help?
Unfortunately, this is not a service we offer as there's too much work involved recreating your design in a computer-friendly format for a one-off. However, if you have graphic design skills, then create a vector file of your design and send it to us for appraisal.

How easy is the stained glass window film to apply?
Very easy. But don't take our word for it. Read our fantastic Trustpilot reviews, they're all genuine. To apply the film, all you'll need are a few basic tools, and we even throw in a small application tool with your order for free. Soapy water is the key ingredient, which allows you a bubble free application. Please click here to view our video tutorial. It's really that easy.
Back to top