Our solar film, tinted window film and reflective window films are designed to mitigate the effect of the sun which can make your home or work environment unbearable at times and damage valuable artworks and furnishings.
Window film is a thin material which is applied directly to the glass. You can purchase the film by the meter or cut to size directly from our website.
But which film should you use? Your windows and - especially - double-glazed units act as heat convectors which magnify the light and trap the heat. Solar window film is designed to reject some of the excess heat and light to make your interior more enjoyable.
Dazzling Light & Glare
The most common issue by far is glare which can make working conditions difficult, especially when working at a computer screen in a bright office. Excess glare can reduce productivity and induce headaches, so it shouldn't be ignored.
In simple terms, to reduce glare, you need to apply a film that will reduce the amount of sunlight, just like a pair of sunglasses would. Our tint films or reflective films are ideal for this purpose, and the darker the film, the less glare. So, if your windows face South or West, you will need a darker film than you would on East facing windows. North facing windows shouldn't be affected. Both types of film will also reduce UV light to negligible amounts, and reflective films also add privacy during daytime hours by giving the glass a mirror finish from the outside.
Excess Heat
Excess heat is often an issue with large expense of glass like bi-fold doors, patio sliding doors and glass shop fronts. Again, our tinted or reflective films are ideal for this purpose, but in some cases reducing daylight is not an option. Our heat rejection film has been designed to reduce excess heat whilst allowing most of the natural light through. It is virtually clear and therefore very popular with retail outlets and food retailers and it also helps to save on air conditioning costs whilst helping against the UV light responsible for displays fading.
Fading of Furnishings & Artwork
UV light can cause havoc with your furnishings, photographs and artworks. Our UV Protection Anti-Fading Window Film is widely used by museums and retailers, and we've also supplied Buckingham palace. The film can be applied to windows and doors, but also directly onto the glass on your picture frames. We have 2 types, a clear UV control film ideal for retail outlets and museums, and a film which will also control excess infrared and visible light, making it more effective against all the causes of fading.
Solar Film For Conservatory Roofs & Windows
Conservatories or orangeries were originally designed to grow fruit and vegetables in all seasons. Nowadays, they are an extra room in the home which can become overheated and unbearable. For glass panes, we recommend either our Tinted or Reflective films to ward off the excess heat and sunlight, but if your conservatory roof is polycarbonate, you will need a specially formulated conservatory roof film for that purpose.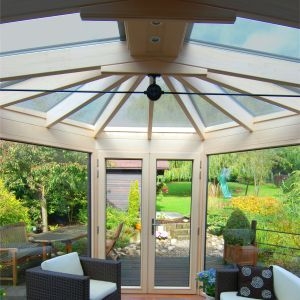 External Films
In some cases, when access is compromised or when the glass is not suitable, an exterior grade film is the only option. Our External Reflective Film is designed to sustain the elements, and because it is applied externally, it is more efficient at controlling excess heat.
Privacy
Our Solar Frosted Window Films are ideal for controlling excess heat and glare whilst giving you 24h privacy. If you are looking for another privacy-related solution, please visit our Privacy Window Film page which has all the information you require.
Back to top